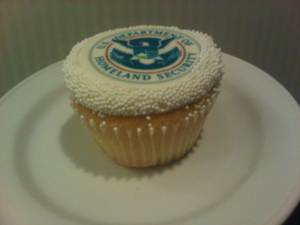 Maybe it's just a Washington thing, but no where can you gather more than a hundred or so people in a significant venue for a major speech on a topic of national importance that says… well… nothing. Such was the scene at the National Press Club when 200 or so people assembled to hear DHS Secretary Napolitano's second annual "State of Homeland Security Address."
The entire program got off to an interesting start when attendees arrived for the luncheon remarks to discover a plate filled with cupcakes at the center of each table. These weren't just any cupcakes though. These cupcakes bore the seal of the nine-year-old Department, with white sprinkles surrounding the emblem.
Either someone at the National Press Club has a wicked sense of humor to feature a potentially life-threatening desert – just three weeks after TSA confiscated a fearful red-velvet cupcake (baked into a jar) – or the Department has gotten very creative in licensing its logo. An even greater irony was the fact that TSA Administrator John Pistole was at the Secretary's remarks, but I don't know if he or his staff screened the cupcakes prior to their being served. The DHS cupcakes though seemed to be the apt descriptor for the delivered remarks.
If the goal was to deliver a speech that is presented effectively, it succeeded. Like the cupcakes, it made for a pleasant and unique presentation.
If the speech was intended to not make any news, it succeeded there as well. Napolitano's remarks listed the obligatory, if not rudimentary things that the Department does day in and day out to safeguard the American public. It was sprinkled with all of the usual ingredients (actions by FEMA, Border Patrol, US Coast Guard, etc.) – the foundational flour, eggs, milk and sugar that make up the DHS batter. For all of these fundamentals, the speech, like the presented cupcake, was bland, without much taste and was really unremarkable. It had none of the flavor that a cupcake crazy craving nation was looking for and you literally walked away feeling, "What a waste…"
I guess you could say they were empty calories that we just consumed because they were on a plate in front of us. It was easy to take note of the empty consumption because you could see the reporters who regularly cover the homeland security and national security beat as visibly bored during her remarks.
Reporters are usually the first groups of people to hear something new and newsworthy come out of a speaker's mouth, and they had to stretch to find either of those items in these presented remarks. In walking out of the Press Club, you could hear many of them verbalizing those sentiments. I actually heard one say to another, "Well that was another fine rendering of non-newsworthy talking points, wouldn't you say?"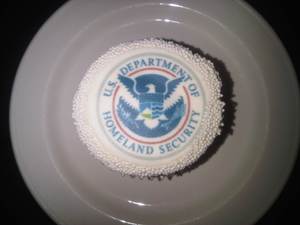 For those experienced DHS veterans and other observers in the crowd, they too walked away with a fairly empty feeling. There were some solid T-ball opportunities to knock the ball out of the park and make some key points that were not seized upon, a fact that my friend and colleague David Olive lamented about in his own recent blog post.
Even the Q&A portion of the program (which is usually the most informative as it is unscripted) proved to be an exercise in saying next to nothing. When questioned about the challenges of doing the Department's mission in a severely budget constrained environment, (which is probably the biggest crisis the Department faces), the Secretary proved her adeptness at delivering an answer that was a non-answer. In short, the Secretary has perfected what it is to live and work inside the Capitol Beltway.
Like the presented cupcake, there was a dignified and professional presentation to it but in the end it was bland, not filling and was utterly unremarkable. There's something really disappointing about that given all of the great ingredients that make up the Department and its mission assignments. There is a richness and flavor to what they do every day, but when it is mixed, baked and presented as it was at the National Press Club, you certainly expect it to be something a whole lot more filling and enjoyable.
That's something that the Secretary and the Press Club's bakers should work on for next time.