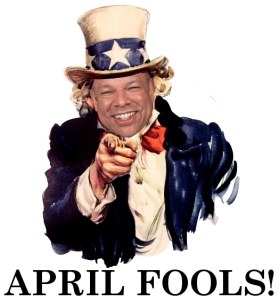 In Security Debrief's seventh annual April Fools coverage, we've collected stories the rest of the media somehow missed…
———————————————————————————————————————–

Sheila Jackson Lee to Join HGTV Reality Show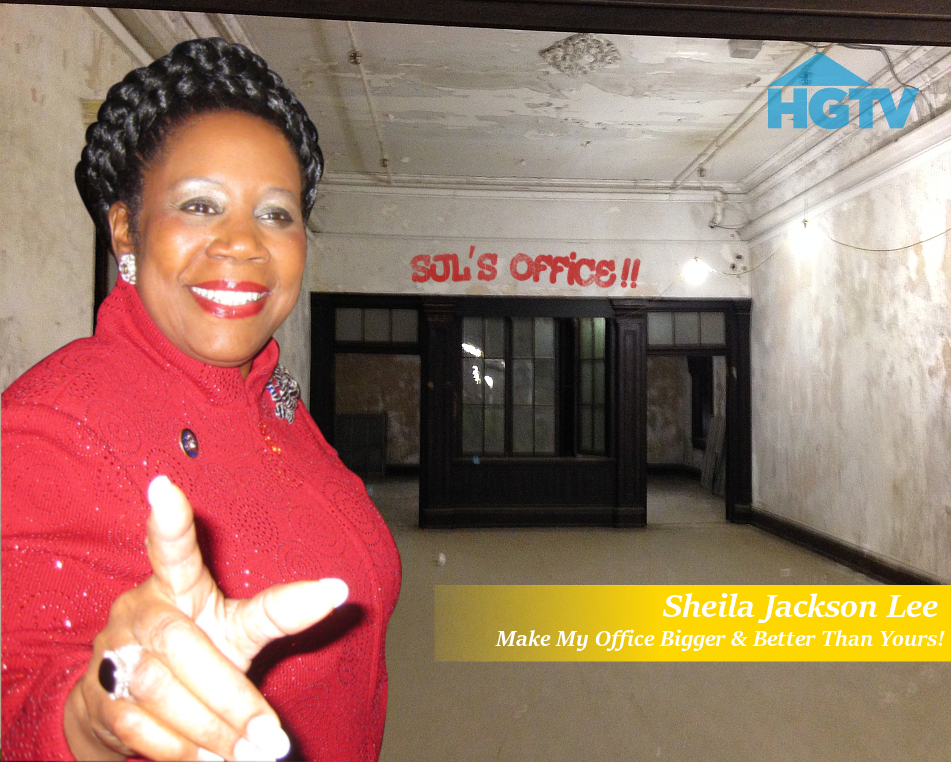 HGTV executives announced today the signing of longtime Texas Congresswoman Sheila Jackson Lee as host of a new reality show, "Make My Office Bigger & Better Than Yours!!!"
Inspired by the success of daytime talk show host Ellen DeGeneres' hosting duties on "Ellen's Design Challenge," HGTV producers thought long and hard about expanding their brand into creating executive office space. The goal of the new reality show is for a select group of creative office space designers and contractors to compete to make the biggest and best office possible for the Homeland Security Secretary "in waiting."
Still clutching the framed July 24, 2013 letter by Congressional Black Caucus Chair Rep. Marcia Fudge to President Obama offering the full endorsement of Rep. Jackson Lee to be the nation's top homeland security officer, the veteran and never-soft-spoken member of Congress declared, "I will get that job and my office is going to bigger and better than yours!"
In an exclusive interview with Security Debrief, Kenneth Lowe, the founder and CEO for HGTV explained, "An office really is a place where a leader can gather their staff, colleagues and partners, and impart words of wisdom and inspiration to them. I don't think there is any leader in America more inspiring to her staff, colleagues or partners than Congresswoman Sheila Jackson Lee."
To accommodate her demanding Congressional schedule and aisle-way appearances during State of the Union addresses, the show will be filmed entirely in Washington, DC on location on the grounds of St. Elizabeth's Hospital – DHS' new behind-schedule headquarters. Using several historic, rotting and abandoned buildings on the campus, each design team will consult with the Congresswoman's emotionally raw, abused, heavily sedated and shell-shocked current and former employees. Their task is to design a premier office space where Rep. Jackson Lee can order all of the Department's components to do her bidding while containing her ego into a confined area.
"At first, I was worried about building a space to just accommodate her wardrobe and shoes, but containing her ego, that's another design challenge by itself," remarked "Jesse," a self-taught design consultant who asked that his real name not be used given he is still on the run from some bad experiences in New Mexico. "I know a lot about how to psychologically and physically torture people from first-hand experience. I've been there."
Another contestant, "Marie" who asked that we not use her real name, explained she was the daughter of a former U.S. Senator in the early 1990s and knew all about designing in deep dark places and dealing with challenging personalities.
"Let me tell you, I've seen crazy up close and personal, along with its little white dog and its "it puts the lotion in the basket" one-liners, but designing a space for Sheila in this hell hole? This may be the toughest thing I ever do in my life."
When the Texas Democratic Congresswoman was asked by Security Debrief's acclaimed and award winning architectural and design beat reporters Wally Paper and Stikum Dare what she wanted in a prospective Cabinet Secretary office, she glared at them and said, "Did I say you could speak to me?"
As both reporters cowered in fear amidst a puddle of their own tears and slinked away from her presence, unrepentant loudmouth and MSNBC personality Chris Wallace boldly asked, "What makes you think that either Hilary Clinton or Donald Trump, or for that matter Ted Cruz, would pick you to be the next Homeland Security Secretary?"
After hurling a shattered wooden chair over his head that was left over from a sanitarium patient riot in 1893 brought on when the Tapioca pudding didn't congeal enough, the Congresswoman declared she was by far the most qualified person on the planet to lead anything, anywhere, ever.
"If the 2016 race has proven anything, it's that America is more than ready to be led by someone who will say anything and do anything while knowing absolutely nothing about the duties they are responsible for upholding," said Rep. Lee. "My District has been leading the way for years by sending me to Congress. It's about time America caught up with the 18th District of Texas! Now get out of my damn office!"
After hurling another piece of shattered antique furniture, HGTV producers explained to cowering reporters that the reality show will also showcase new means of sustainable and environmentally conscious building materials. At the St. Elizabeth's facility, the competing design teams will specifically highlight the recycling and reuse of belted jackets and harnesses that fasten in the back, as well as makeovers to rubber padded walls to maximize the safety of Jackson Lee employees. Additionally, to comply with strict Washington, DC, noise ordinances, the show designers will also demonstrate how padded walls can suppress the screams of fear and emotional terror that arise from DHS employees briefing and attending to the Homeland Security Secretary in waiting.
Tune in later this spring to HGTV to see which design wins!
Back to the top
———————————————————————————————————————–

Federal Protective Service Assigned to Protect Newly Discovered Substance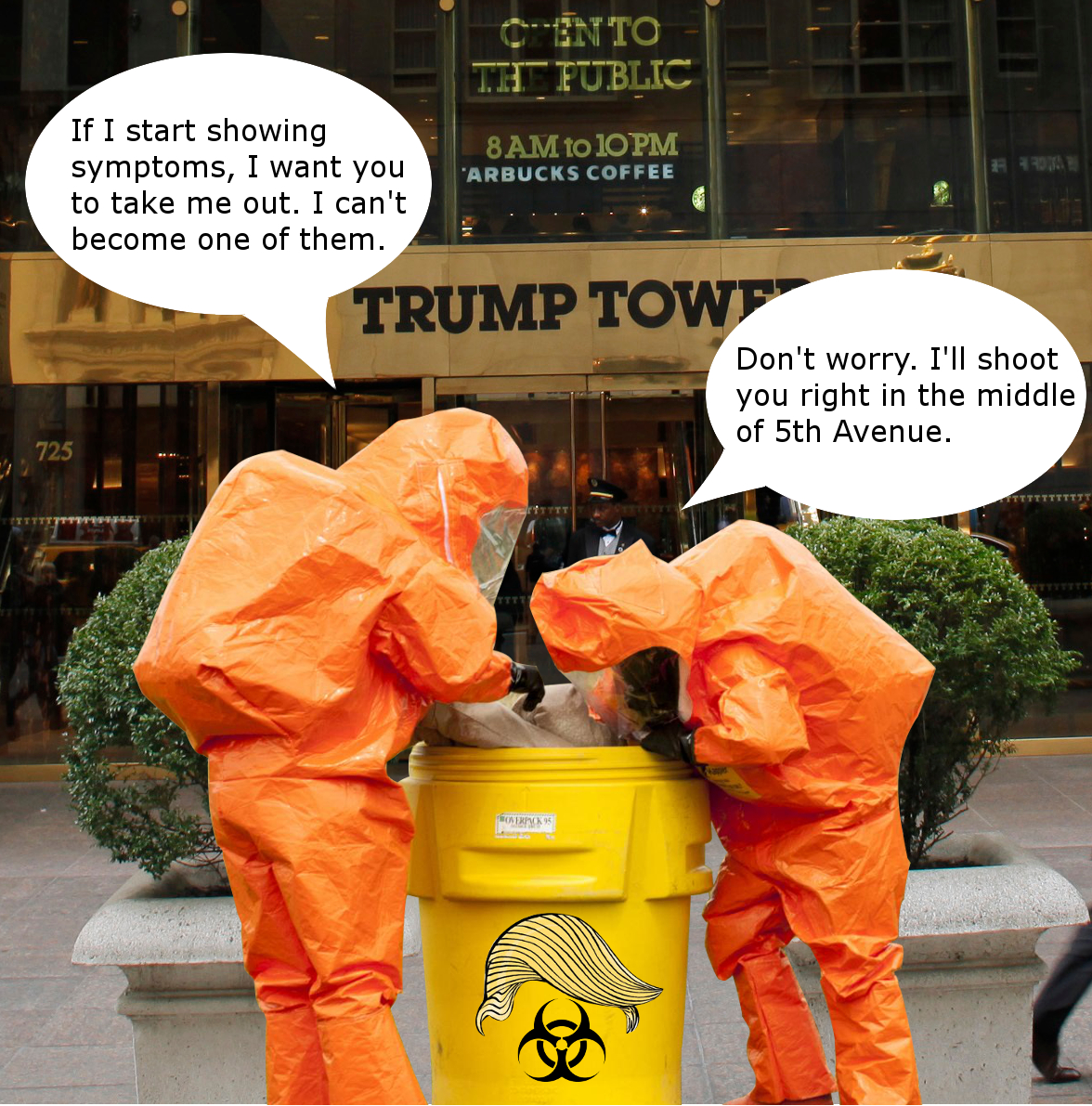 Investigators from the National Academy of Sciences recently discovered a new and potentially dangerous substance in New York City. According to sources, the substance, called Trumptonium, affects people in drastically different ways and left unchecked could undermine the fabric of American society.
Director of the Federal Protective Service Eric Patterson confirmed to Security Debrief that his agency is overseeing the security efforts around a midtown Manhattan building, whose gold-plated address is being withheld for national security reasons.
"The public should not panic," said Patterson. "FPS is here to provide exactly the same level of coordination and readiness that encouraged my bosses to take away FPS oversight of the DHS Nebraska Avenue Complex contract security guards."
While FPS has been under Congressional scrutiny in recent years after several security incidents, Patterson was proud that his agency had been tasked with guarding the site where Trumptonium was found, rather than the EPA. As Patterson said: "EPA is so inept they could not organize a two-car parade. By comparison, just look at how many cars we have here. That's at least ten cars, and only three of them have been broken into since we arrived this morning."
It is unknown whether Trumptonium is part animal, vegetable or mineral—or whether is it an alien substance altogether.
"It sticks to everything it touches, but nothing sticks to it," said Dr. Marco Jeckyll, an epidemiologist at Eastern Newark Medical Center. "We have never encountered something that has such a slick exterior while also possessing a molecular structure with adhesive properties that simply defy understanding. There is no telling what it can or will do."
NAS investigators said the substance appears to have been in existence for several decades but was largely ignored until its infectious properties were recently discovered. Once it started replicating at an unexpected rate, faster than any known cancerous growth, it began infecting individuals from coast to coast. Particularly vulnerable are individuals classified as "angry uneducated white guys," according to sources.
"It is a mysterious substance that when people come in contact with it, some become quite ill while others get giddy and laugh uncontrollably," said infectious disease expert Dr. Ted Hyde of University of Houston. "Bewilderment seems to be the emotion that is most evident in the presence of the new substance. But what is currently a controllable situation, if allowed to run rampant, could become quite destructive."
Back to the top
———————————————————————————————————————–
From our sponsor: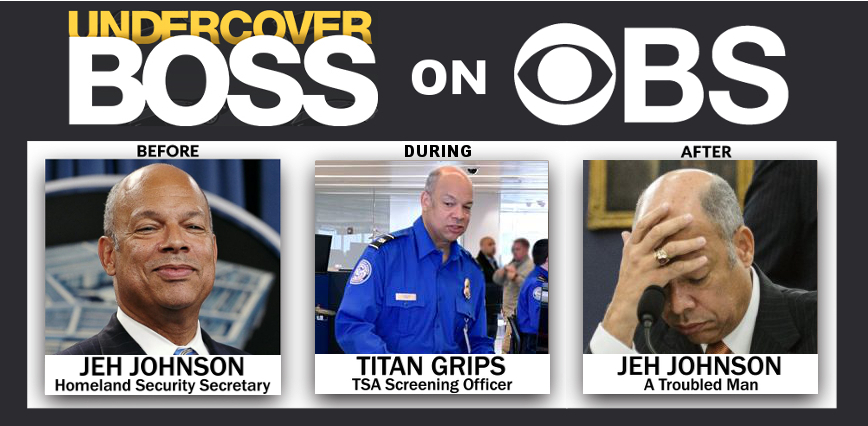 ———————————————————————————————————————–

Jeh Johnson to appear on CBS' Undercover Boss
Security Debrief has learned that DHS Secretary Jeh Johnson will appear on the season finale of CBS' hit series, "Undercover Boss." A review of secretly obtained files posted on the infamous Wookieleaks CosPlay site revealed the tough negotiations that CBS went through to secure the nation's fourth homeland security secretary.
In a January 7 e-mail, series creator Stephen Lambert originally offered Sec. Johnson a recurring role on CBS' Friday night drama "Blue Bloods," playing a feisty U.S. Senator from New York who does nothing but scream for more grant funds to blanket the Empire State. The offer, however, was not enough, as Johnson insisted that in addition to the recurring Blue Bloods spot, he be given his own TV pilot to be aired in mid-2017, a reboot of his favorite CBS series, "The Unit." He also required lifetime weekend access to Magnum PI's red Ferrari 308 GTS.
Lambert and CBS Chief Les Moonves signed off on the deal and Johnson reported to CBS's remote production studios outside of Baltimore two weeks ago.
Playing the role of "Titan Grips," a recently retired Baltimore dockworker and rabid Baltimore Ravens fan and behavioral apologist, Johnson went under disguise as a TSA Screening Officer at Baltimore-Washington International Airport. Sporting a new pair of clear contact lenses, a crisp, ironed blue shirt, and sweeping his hair to the left (instead of his customary right side) and wearing a big joyous smile that declared, "I'm happy to work here," the Homeland Security Secretary was unrecognizable to the TSA workers and passengers he screened outside of the Southwest Airlines terminal.
Sporting his new name tag, "Titan" wore fresh latex gloves and with a firm motion of his fingers, signaled passengers to proceed through magnetometers. His shift/training supervisor, a 12-year TSA veteran screener and former Mid-Atlantic Roller Derby Queen Champion, Ima DaBoss marveled at the confidence "Titan" had with screening passengers.
"This man likes to get his hands on stuff," said DaBoss. "He just has such a command about him. If he can stick this out a few more weeks, I see a bright future for him at TSA."
DaBoss had no sooner shared that observation than CBS cameras captured former DHS Secretary Michael Chertoff appearing in the screening line. Off-camera producers fearing that Titan's cover might be blown by the former Secretary recognizing his successor had their fears quickly allayed as "Titan" readjusted his hair with another brisk brush to the left and motioned Chertoff through the magnetometer for final screening.
When Security Debrief editors reached out to former Secretary Chertoff and asked if he found anything unusual about his screening at the airport that day, he remarked, "In all of my years of traveling, I can't ever remember seeing a TSA Screener with a smile on his face. I just figured that their Union got them better prescription coverage benefits, making generic Prozac easier to obtain."
"Titan's" day of screening proceeded uneventfully with the exception of a late afternoon encounter he had with Gloria Bluehair, the veteran Bridge Champion who is now wheelchair-bound because of a recent fall she had at the National Aquarium on wet stairs outside the reef shark petting tank.
The feisty card player yelled at "Titan," "Let's move this charade along! Matlock is on at 4:30, and I want to be back in my apartment by then."
Viewers will have to tune in to CBS on Sunday evening to see where Ms. Bluehair ends up.
Back to the top
———————————————————————————————————————–
From our sponsor: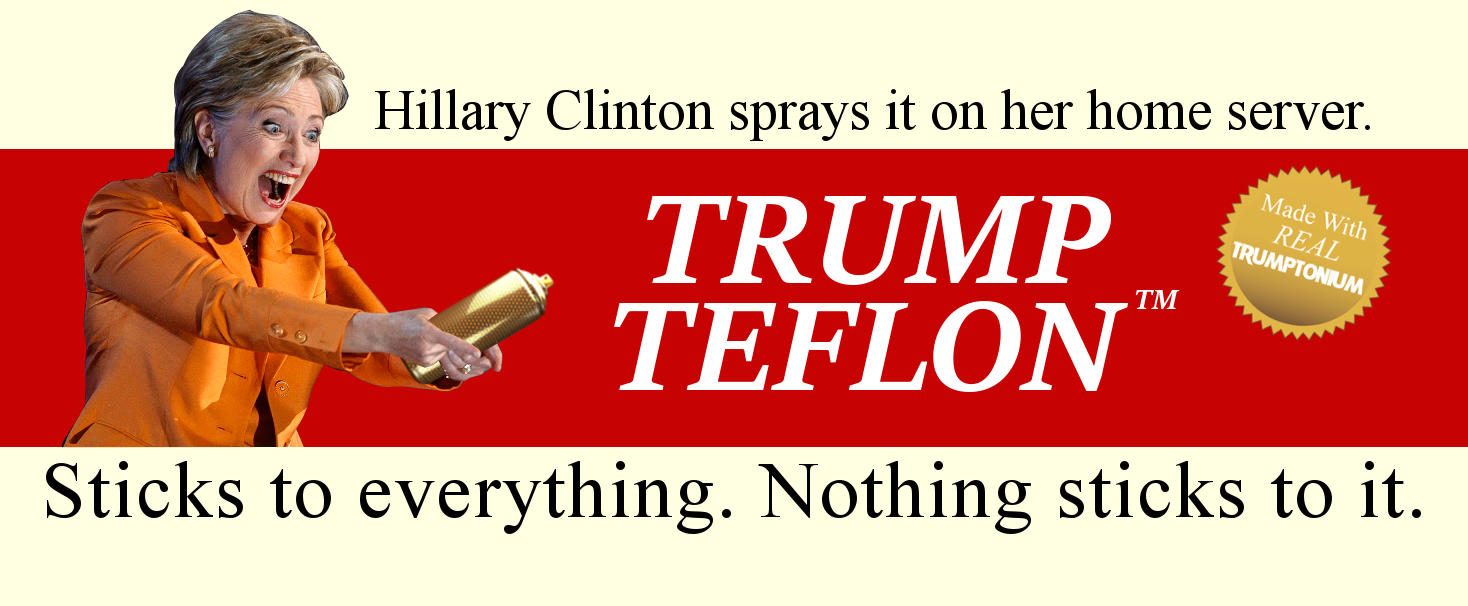 ———————————————————————————————————————–

Headlines from the Presidential Race
"Trump Bump" to Mexican Economy – Presidential candidate Donald Trump's "Border Wall" proposal has led to a 60% uptick in the Mexican ladder industry. Said Manuel Vasgez, owner of Manuel's Escaleras, "Business is climbing." Meanwhile, several new hot air balloon and hang-gliding businesses have sprung up along the Rio Grande. And the travel industry is seeing higher-than-average volumes. Since January, there has been a 90% increase in tourist visas for Mongolian citizens, who are being brought in as consultants to prepare for the "Great Wall." In related news, Mr. Trump received an endorsement today from the Catapult, Ballista and Siege Weapon Mexican Manufactures Alliance.
ISIS Rhetoric Irks Bovinian Voters – The animal rights group People for the Ethical Treatment of Animals (PETA) released a statement today condemning the "outrageous and despicable language" being used on the presidential campaign trail. The statement reads: "Sen. Cruz's continued rhetoric about 'udderly destroying ISIS' is insulting to cows and has no place in American politics."
Clinton Indicted! – U.S. Attorney General Loretta Lynch announced today that the Department of Justice will indict P-Funk All-Star Legend George Clinton on corruption charges related to his "pay-to-play" organization. In related news, former Sec. of State Hillary Clinton announced she will be dropping out of the 2016 Presidential race to become the front-woman for the Parliament-Funkadelics. Her first single, "A B Me," is expected to be released this month.
Kasich's (Un)Conventional ISIS Strategy – Presidential Candidate and Ohio Governor John Kasich unveiled his plan to defeat ISIS, using a strategy titled, "Signature Platform On ISIS Leading to their Eradication and Removal"—or SPOILER. Gov. Kasich said, "With SPOILER, we stop thinking of winning the fight against ISIS in the traditional sense, and instead think of it more in a 'conventional' sense. A 'convention win,' if you will. The idea is to teeter along with modest gains here and there, eventually getting to an artificial environment where the outcome of the war on ISIS can be decided by a handful of privileged people."
Sanders: It's All Wall Street – Amid criticisms that he is unversed in foreign policy, Presidential Candidate Sen. Bernie Sanders held a press conference to discuss findings from his campaign's "multi-month, comprehensive" investigation into the ISIS threat and strategies to defeat them. Speaking to reporters, Sanders said, "The greatest threat facing this country is a rigged political system controlled by a handful of millionaires and billionaires in the wealthiest top 1%. We have uncovered—and this is yuuuge—ISIS leader Abu Bakr al-Baghdadi is actually …Frank Swanson from Queens, a former investment banker who directly contributed to the 2008 financial crisis."
Back to the top
———————————————————————————————————————–

DHS Moves Components in Effort to Improve Morale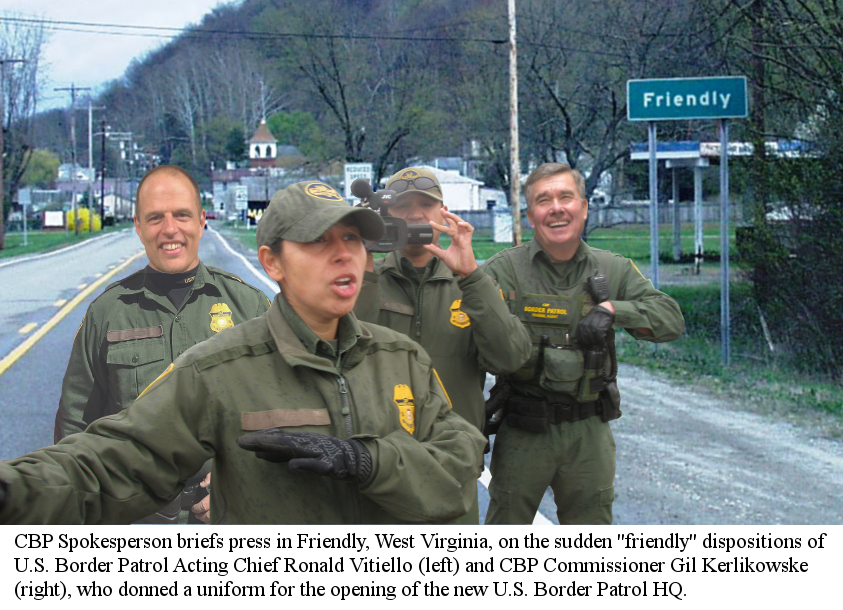 Fed up with low morale ratings in the annual Federal Employment Viewpoint Survey—and having promised to change those results before the end of his tenure—DHS Secretary Jeh Johnson unveiled a plan to move DHS components to various locations across America.
"We asked the top human relations advisors from private industry for their best advice," said Johnson. "They said that when employees are surrounded by happy people, get to perform intellectually challenging work, and feel that their actions are admired by others, morale skyrockets. Per the recommendation of Disney's HR experts, we decided to start by changing the locations where our staff works to places whose names convey a positive reaction."
Effective immediately, the Science and Technology Directorate will move to Happyland, a community in Pontotoc County, Oklahoma, close by the bustling intellectual meccas of Homer, Maxwell, Lula and Byng, Oklahoma. Said Johnson: "It was a very close call on whether to send them to Happyland, OK or to Happy Camp, California, but the impressive scientific staff at the Pontotoc County Community College made the decision easier."
The Transportation Security Administration will be relocated to Paradise, Michigan, a town of tranquility and floral beauty not too far from Lake Superior's Shipwreck Coast region. "It will be a perfect, dare I say 'Superior' place for them," Johnson said, noting that TSA Administrator Peter Neffenger was a former Coast Guard Admiral and wanted to be located somewhere near a large body of water.
Johnson also announced the U.S. Border Patrol headquarters and the CBP training facilities currently in Harpers Ferry, West Virginia to a more appropriately-named location: Friendly, West Virginia. Johnson also noted that the new location in Friendly would allow agents to train in a multi-cultural, multi-lingual region. Friendly is located on the Ohio River, directly across from Matamoras, Ohio. Said Johnson: "That will help them when they are deployed along the Rio Grande River in the Southwest, since they will already be comfortable with people from Matamoras."
Back to the top
———————————————————————————————————————–

President Declares DHS Human Capital A Disaster, FEMA Activated
After another year of poor Federal Employee Viewpoint Survey scores, neglected cyber hiring authorities, components gone wild, and a scathing GAO report, President Obama declared DHS Human Capital a disaster.
In an unprecedented use of the Stafford Act, Secretary Johnson encouraged President Obama to issue the highest state of emergency. According to DHS officials, youth from FEMA Corps are being dispatched to numerous facilities across the National Capital Region in search of stacks of unanswered USAJob applications and job descriptions that haven't been posted. Even the Federal Protective service was called in to keep component agency personnel from going directly to OPM for relief from DHS policies.
FEMA Administrator Craig Fugate tapped Bob Fenton, Regional Administrator for FEMA Region IX, as the Federal Coordinating Officer for the disaster. Insiders say that since California has not had a major earthquake in 25 years, Region IX has been the go-to region to bring in Silicon Valley talent to fix long-standing management problems, such as FEMA's grants management systems. Fenton's first official action was to distribute hundreds of Spil-Pruf urinals and bedpans for the $180 million that the human resource information technology program was "pissing away."
Back to the top
———————————————————————————————————————–

'Unity of Effort' Turns 2, Gymboree to Host Festivities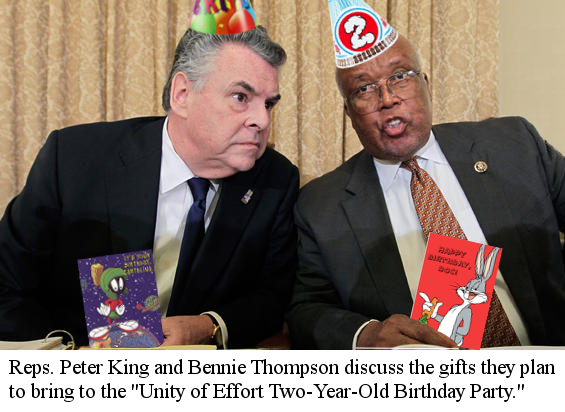 Congressional leaders expressed their enthusiastic approval for DHS Sec. Jeh Johnson's leadership of the beleaguered and morale-plagued department upon receiving personal invitations for a party celebrating the two-year birthday for "the Unity of Effort" program.
Gathered outside a fourth-floor hearing room in the Rayburn Building, a bipartisan group of House and Senate Members comprising the senior Homeland Security Congressional leadership of the recently formed Joint Committee for Excessive Oversight, Camera Pandering, Unanesthesizing Proctologists and Random Probers displayed their colorful invitations to celebrate a remarkable two-year birthday.
Ranking Member for the House Homeland Security Committee Rep. Bennie Thompson held up for cameras his invitation displaying cartoon classic character Bugs Bunny outwitting perpetually incompetent hunter Elmer Fudd. "I just love that rabbit," said Thompson. "He gets away every time. Sort of like DHS management plans and contract requirements."
Former Homeland Security Committee Chair and always-ready-for-the-camera Rep. Peter King showed his party invite, featuring Marvin the Martian peering through a super magnified telescope looking out for unwelcome invaders. Waving his fists in the air towards the assembled media cameras and anxious reporters, he said, "I want one of these telescopes for New York! And I want more grant funds to pay for it too. The NYPD should have one of these on every corner!"
Upon hearing the words "grant funds" and "New York," the senior Senator from the Empire State Charles Schumer ran through the assembled crowd, trampling five elementary school children to position himself in front of television cameras, announcing "I heard this Joint Committee is looking to tamper with the nation's Grant Funds. People, those funds all belong to New York so back off. They're all mine!"
As Schumer staffers quickly whispered into the senior Senator's ear, apprising him of how the gathering was sharing their invitations for the Unity of Effort Two Year Old Birthday Party, the native New Yorker and aspiring Senate Democratic Party leader quickly reached into his suit jacket and flashed his personal birthday invitation, displaying Superman soaring above Metropolis.
When pressed by Security Debrief reporters what the esteemed Members would take to the two-year old birthday party as gifts, Rep. Loretta Sanchez (D-CA) quickly shouted, "Underoos! Like these!" as she quickly opened her large leather bag pulling out and waving a packaged pair of Wonder Woman Underoos. "I bought these for my cat! They're going to look so great on my holiday card this year!"
Other Congressional Members expressed support for Sec. Johnson's decision to host the two-year-old celebration at the Washington, DC, Gymboree. Sen. Ron Johnson, Chairman of the US Senate's Government Affairs and Homeland Security Committee, explained that while many people may question taxpayer funds being spent on gathering leaders on circle time where songs are shared and Congressional Members gleefully run under the parachute into the open arms of their Moms and lobbyists with checks, "This is exactly the type of place we need to spend time at to learn how to get along with others. My only disappointment is we didn't hold the one-year old birthday party there because the pink eye we got last year at that Chucky Cheese on Route One was a bitch to get over."
In a prepared statement from DHS Public Affairs released this morning, Sec. Jeh Johnson said:
"I want to thank the Members of Congress for their enthusiastic response to our invitation for two-year old Unity of Effort celebration. Any time we can come together for some songs, soft play, and take part in Jungle Safari, Construction Zone and Dinosaur Adventure play time, it helps us build trust and understanding in the homeland mission we all serve. Nowhere but Gymboree can that feeling and spirit better manifest itself. For it is there that they can teach us all how to act our ages while lifting the subterranean spirits of the Department's workforce to even greater heights, eating cake, throwing tantrums and hurling blocks at one another. That's what Unity of Effort is all about."
Back to the top
———————————————————————————————————————–

DHS Components Compete to Sponsor Olympic Competition
Last week, a fight between the US Secret Service and the Border Patrol came to light during a congressional hearing, and the rhetoric has intensified to the point that pundits are comparing it to the nastiness of the 2016 Presidential race.
At issue is whether the Secret Service or the Border Patrol will prevail as the lead sponsor for the U.S. Olympic Fence Jumping team.
DHS Inspector General John Roth disclosed the dispute in response to a question from Arizona Senator John McCain, a former Presidential candidate and long-standing budget hawk. McCain had alienated Border Patrol higher-ups last year when he openly criticized the Patrol's sponsorship of a NASCAR racing team. McCain asked Roth whether DHS was still funding sports competitions where the goal was continuously to turn in circles and "always to the left." Roth's response shocked McCain and the two other Senators who attended the hearing.
Sparse senatorial attendance at the hearing did not prevent the dispute from going viral over cable television and social media under the hashtag #IsFenceJumpingReallyAnOlympicSport?
Contacted after the hearing, Acting Border Patrol Chief Ron Vitello defended his agency's actions.
"Almost from our inception, the Border Patrol has been synonymous with fence jumping in the public eye," Vitello said. "When the International Olympic Committee made it a competitive sport at the request of several Central American countries, we saw it as a logical place to put our brand."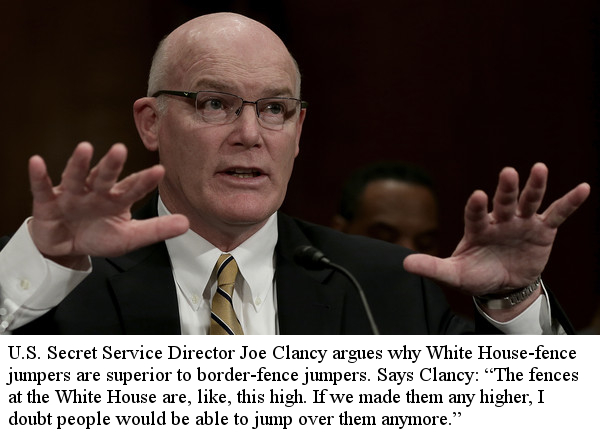 US Secret Service Director Joe Clancy saw it much differently.
"Those guys in the green shirts [the Border Patrol] only deal with amateur jumpers who have to clear three foot wire fencing," said Clancy. "My team has to encounter real athletes who vault over 8 foot high fences and double rows. The Secret Service has a brand that is admired globally, just like the Olympic brand, and we deserve the right to showcase our name as part of the newest Olympic Sport."
US Olympic Committee Alberto Romney declined to comment about the dispute saying that the topic was still part of an open, competitive procurement and that FAR Part 20483.97(a) prohibited public discussion on the matter.
DHS Secretary Jeh Johnson released a one-sentence comment: "Anyone who refers to this issue as a 'five ring circus' will be fired immediately."
Back to the top
———————————————————————————————————————–

DHS Cancels Silver Alert for DHS Under Secretary for Management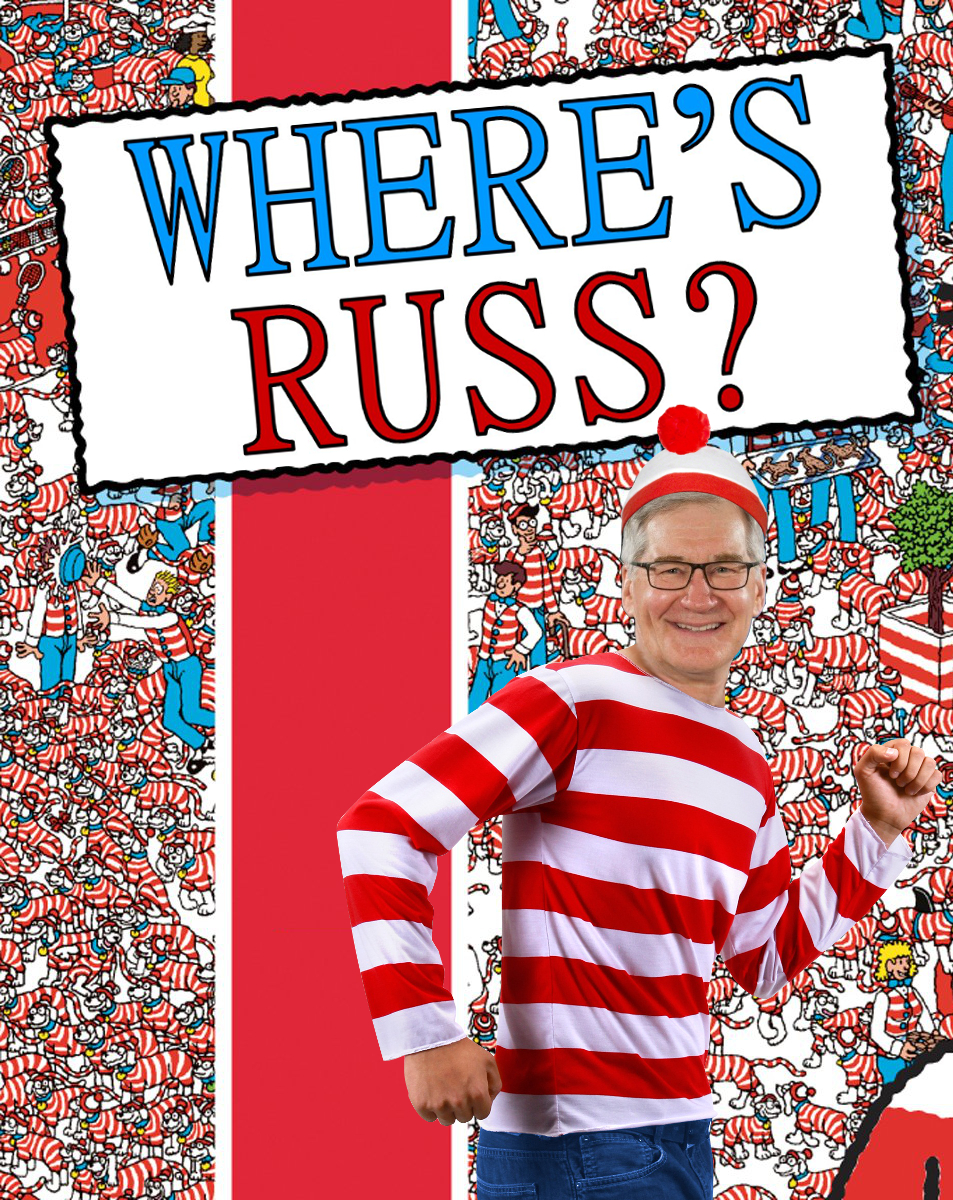 Early this morning, the Department of Homeland Security asked local law enforcement agencies in the Washington Metropolitan Area to cancel a Silver Alert for DHS Under Secretary for Management Russell Deyo. They had requested that it be issued in mid-March after DHS officials were concerned that Deyo had not been seen outside of DHS headquarters on Nebraska Avenue in Northwest Washington in several months. Then, Deyo appeared on Capitol Hill as a witness before a Senate committee and declined to answer questions about his previous whereabouts.
DHS officials say that Deyo, who before his retirement served as General Counsel for Johnson & Johnson, the multi-national health products company, was not known to have any serious medical issues, although some pundits questioned his sanity at taking one of the most thankless jobs in the federal government. Instead, DHS officials said the Silver Alert was originally issued based upon the color of Deyo's hair.
Questions arose in early February when Deyo did not accompany DHS Secretary Jeh Johnson to his annual "State of Homeland Security" talk at the Wilson Center in downtown DC. Later in February, Deyo was not present when Secretary Johnson testified about the FY 17 DHS Budget request before the House and Senate Appropriations committees, as DHS Deputy Under Secretary for Management and Chief Financial Officer Chip Fulghum sat behind Secretary Johnson during both hearings.
While Fulghum is widely seen as the most knowledgeable person about DHS budgetary issues, members of the DHS chattering class of uninformed pundits began asking, "Where's Russ?" That is until last week's Senate hearing, where Committee staff noted only a few instances when Fulghum had to correct Deyo's answers.
DHS officials are still baffled by Deyo's absence in public until last week and did not apologize for initiating the Silver Alert. In an effort to unravel Deyo's previous whereabouts, DHS has asked members of the public with information to contact DHS via its Twitter account using the hashtag #WhoCaresAboutWaldoWeWantToKnowWhereRussWas.
Back to the top