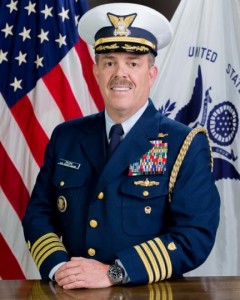 On June 1, President Trump named U.S. Coast Guard Rear Admiral (Select) Doug Fears as Homeland Security and Counterterrorism Adviser. National Security Adviser John Bolton, who tapped Fears for the position, said, "Doug will serve as the President's Homeland Security Advisor and my point person on an array of vital tasks ranging from overseeing the NSC Cybersecurity Directorate to coordinating the interagency efforts during disaster response."
Fears had been serving as NSC Senior Director for Response Policy, overseeing hurricane and natural disaster response. A 36-year veteran of the U.S. Coast Guard, Fears was previously Chief of Staff for the USCG Atlantic Area (LantArea).
Security Debrief's Take: RDML Fears is a highly educated, highly accomplished public servant. He earned a B.S. in Government from the U.S. Coast Guard Academy, an M.A. in National Security and Strategic Studies from the U.S. Naval War College, and a Master in Public Administration from Harvard University. He has also been a fellow at CSIS and MIT. Meanwhile, he was COS for LantArea, which has an area of responsibility that is startlingly intimidating, to include: the Great Lakes, the Gulf of Mexico and Western Rivers of North America and Central American isthmus eastward through Europe and Africa to the Arabian Gulf.
When the Department of Homeland Security stood up, its ranks swelled with USCG vets, in large part because the USCG has such a broad mission set and is not just trained but is exceptional at interacting with a range of operational, policy-making (and sometimes political) stakeholders. In other words, if you come from USCG, you likely know how to put out a lot of different fires with a lot of different people. Fears' impressive background notwithstanding, that is exactly the kind of firefighting we need guiding the White House on homeland security.
Here's to a great tenure.
Editor's note: This post was updated to reflect Fears' permanent status on the National Security Council, having previously served in an "acting" capacity.