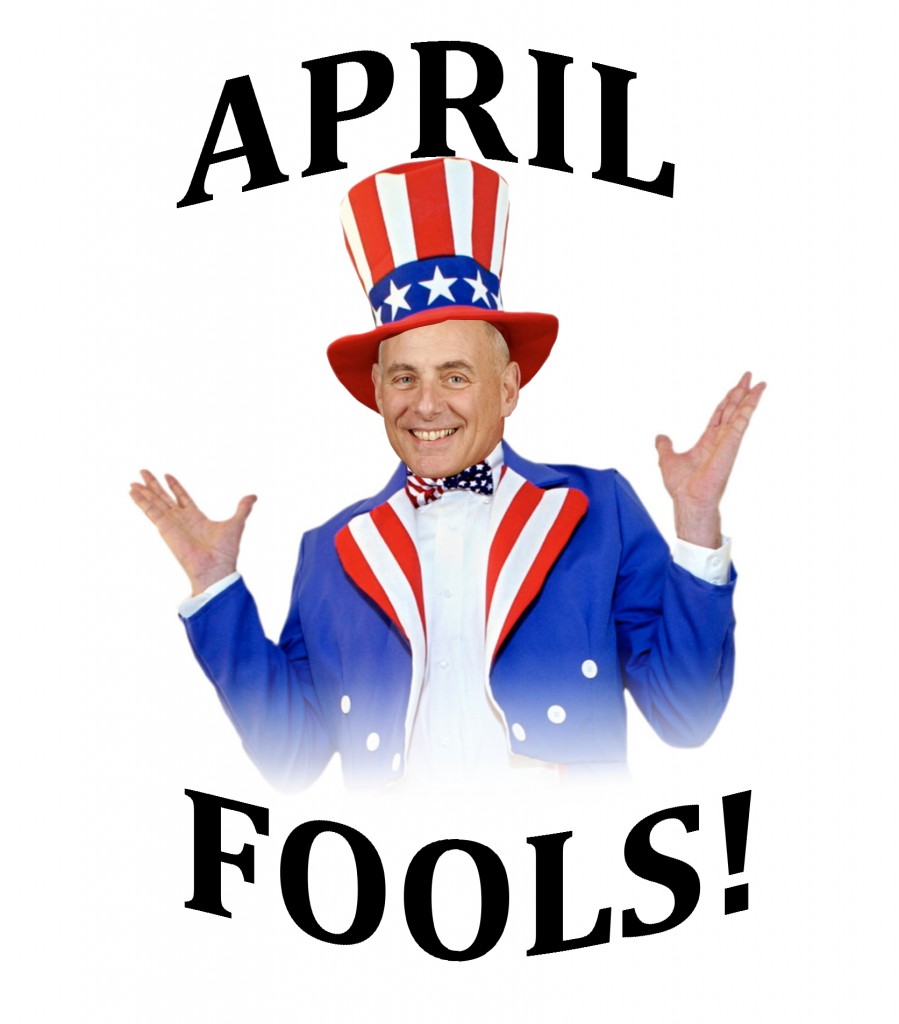 For Security Debrief's 8th annual April Fools coverage, we just couldn't wait another day. On March 31, what is sure to become the first International Alternative Facts Day, we've collected stories the rest of the media somehow missed…
———————————————————————————————————————–

Gov. Christie Nominated for FEMA Administrator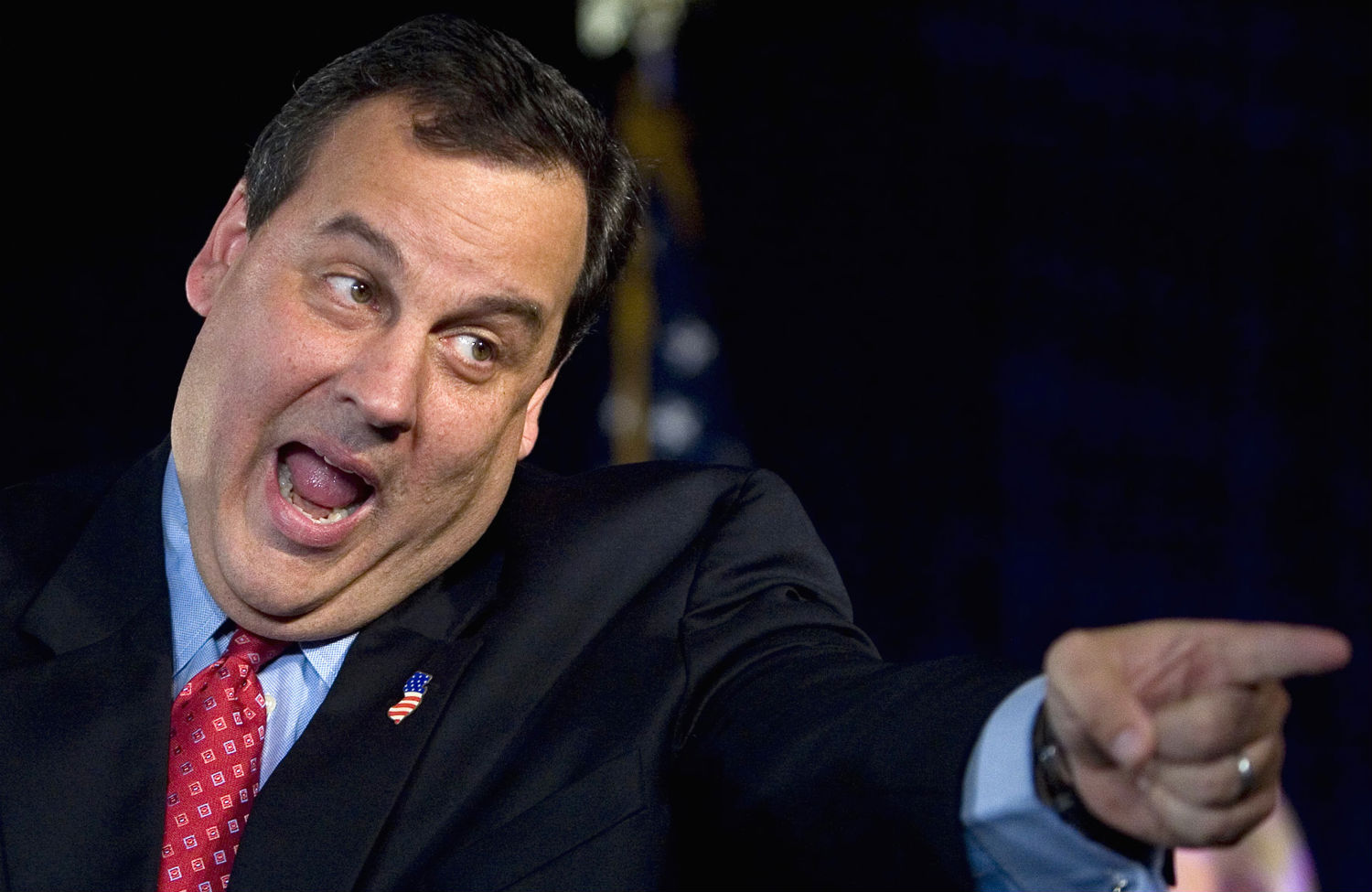 New Jersey Gov. Chris Christie will be nominated to lead the Federal Emergency Management Agency (FEMA), sources report. White House officials are calling the nomination a "booby prize," after Christie sacrificed his dignity to support then-candidate Donald Trump in the vicious 2016 election cycle in hopes of securing a high-level cabinet position.
"Chris really took one for the team," said an anonymous source who was not authorized to speak with the very fake media. "He stood up for Donald when no one else would, and he got absolutely nothing in return. Handing him the reigns of FEMA is the president's way of saying, 'thanks little buddy.'"
Sources report Christie was considered for FEMA Administrator largely because of his 2011 statement before Hurricane Irene, telling vacationers to "get the hell off the beach."
"FEMA needs a leader who takes action and inspires the workforce," said White House Deputy Press Secretary Scott Shawn DeRocks. "Christie has shown he is ready to shut down infrastructure, like a bridge, when he needs to, and really, nothing boosts morale like a shouting, swearing gas bag."
Reached for comment, a FEMA public affairs officer said, "Wait, he's nominated for what? Motherf#&$@*!"
Back to the top
———————————————————————————————————————–

From our sponsor: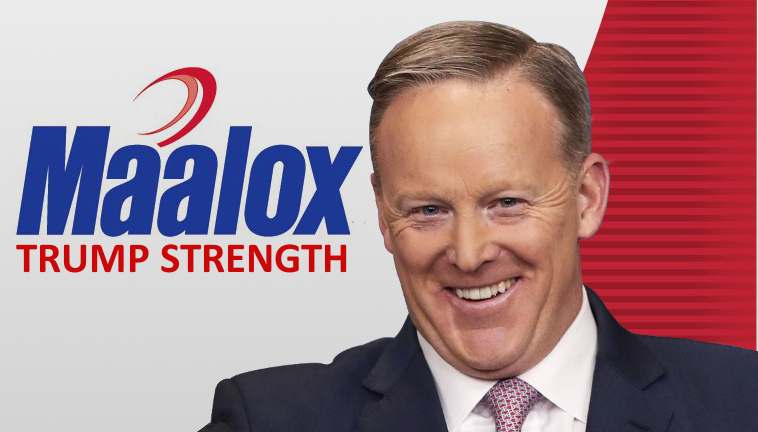 ———————————————————————————————————————–
Maalox Reports Record Sales, Credits Trump
Pharmaceutical giant Novartis today announced the single greatest quarterly sales record for its popular antacid product, Maalox. Posting sales of $300 billion in the first quarter of 2017, Maalox spokesman Upi Settummy credited the massive increase to a single force: "It's the Trump effect! We've never seen anything like it. The minute people realized he was really going to be president, sales took off!"
Capitalizing on the voracious public appetite, Maalox announced several new product lines. One such product will be a "Collector's Edition" series of Pez dispensers featuring the likenesses of President Trump and presidential advisors Kellyanne Conway, Steve Bannon, Stephen Miller and Fox News host, Sean Hannity. Settummy said, "Our market research revealed more people reach for Maalox when any one of these people appear on TV."
Settummy also said Maalox is introducing its own brand of chewing gum.
"We're working with the White House Counsel's Office and the Government Ethics Board to secure a public health endorsement from White House Press Secretary Sean Spicer," he said. "No one has brought back aggressive and medicinal gum chewing the way Sean has."
Reached for comment, Spicer was seen mixing a newly opened Maalox Mint with Jack Daniels and Red Bull before heading to the Press Briefing Room for his afternoon session with reporters. Said Spicer: "I can't go a day without this stuff. Ever since I joined the Trump operation, I've lived on Maalox, and I don't think I'll ever be able to live without it."
Back to the top
———————————————————————————————————————–

From our sponsor: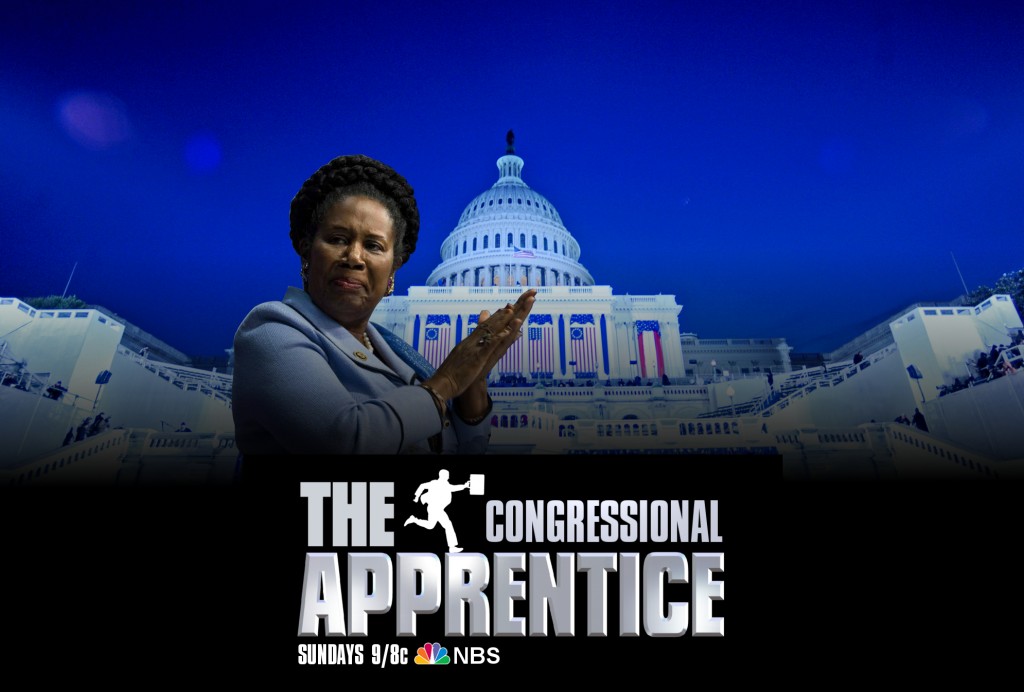 ———————————————————————————————————————–
Sheila Jackson Lee to Host 'The Apprentice'
After mediocre ratings with Arnold Schwarzenegger leading The Celebrity Apprentice, NBC announced today it is taking the network's acclaimed show in a new direction, bringing in Texas Congresswoman Sheila Jackson Lee to host a new series, The Congressional Apprentice. NBC executives said their decision came in part from the stunning viewership ratings for Jackson Lee's HGTV reality series, "Make My Office Bigger and Better Than Yours!!!"
"I am a natural star and I deserve to be treated like a star," Jackson Lee told Security Debrief. "This is a wonderful opportunity for me. Most of my staffers quit before I can fire them. Now I'll finally have a chance to fire everyone!"
The show will feature 10 congressional aides competing to maintain the congresswoman's favor. The aides will face a series of challenges in each episode, all based on how Jackson Lee actually runs her congressional office. Security Debrief was given a sneak preview of the first episode. Tasks include: a timed race to run from the Rayburn Office Building to the House floor to let the congresswoman know her dinner reservations have been confirmed; a "no sleep" challenge, with aides struggling to stay awake until 3 AM while the congresswoman watches footage of herself in hearings; and a driving challenge, with aides speeding on the highway shoulder during rush hour traffic while Jackson Lee screams obscenities from the back seat.
Show producer Helena Handbaskett said they have completed taping of the first three episodes.
"There has been a learning curve," said Handbaskett. "I don't think she ever really watched the previous seasons. On the first day of filming, the congresswoman immediately fired all 10 aides, calling them stupid motherf**kers. She even called me a 'foolish girl' when I explained that's not how the show works. What can I say? That's our Sheila!"
At 5 AM this morning, hearing of NBC's decision, President Donald Trump tweeted: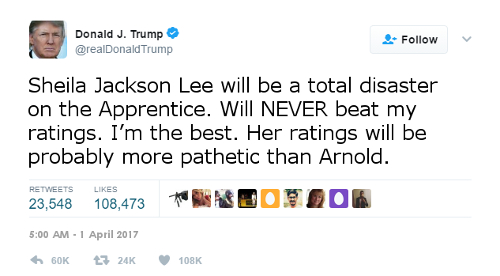 Jackson Lee, who is taking an indefinite leave of absence from her work as part of the House Homeland Security Committee, said that even as she is excited for this opportunity, the real winners are the home viewers.
"Everyone deserves to watch me in my element," she said. "I'm even considering legislation that would make the show required viewing for public high school civics classes. Now all Americans can finally see the real queen of prime time television. And they better be watching."
The first episode of The Congressional Apprentice will air this Sunday at 9/8c.
Back to the top
———————————————————————————————————————–

From our sponsor: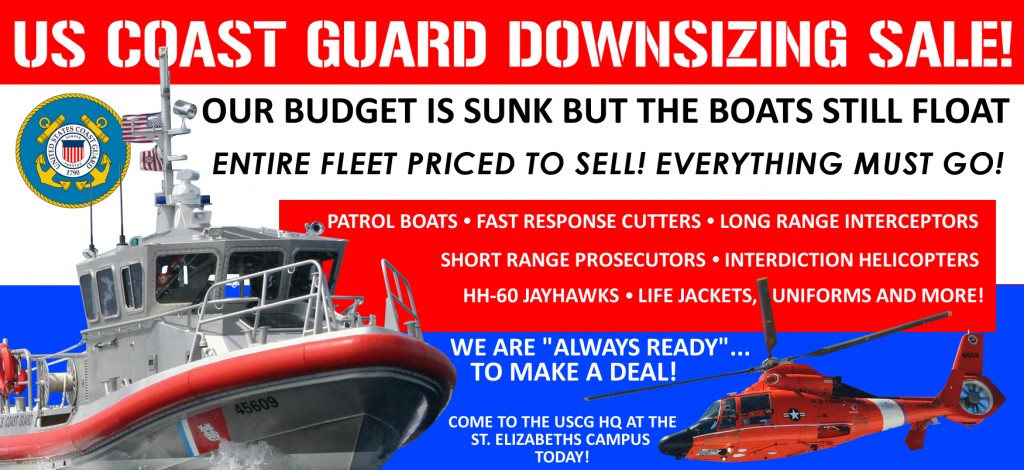 ———————————————————————————————————————–
Headlines from the Homeland
"Haters Gonna Hate" More Than TSA – With public opinion polls revealing Americans disapprove of nearly every aspect of the federal government, a new survey of TSA airport employees, "Schadenfreude in Security," finds TSOs are reporting a 90% increase in job satisfaction. "We used to be the most hated government employees," said TSO Candice B. Fureal. "But between press coverage of ICE deportations, congressional inaction and the president's approval rating, TSA is no longer taking all of the public's ire. Sure, our pat-downs are invasive, but at least we don't try to grab you by your p***y.")
Trump Challenges Obama for Dubious Title – President Trump was briefed today that his predecessor, Barack Obama, had been dubbed the "Deporter in Chief." Interpreting this as a coveted one-time moniker, the president called reporters into the briefing room. "I deport people very, very big league, probably better than anyone else," he said. "I am the biggest deporter, I would say, ever in history. I am the real Deporter in Chief. But the very fake news doesn't report that. They say Russia, Russia, but—excuse me, excuse me—they say Russia and…I am the biggest deporter. That's it. I am the biggest. Everyone has to go. And we're going to do it very fast, folks, believe me."
Shape Up and Ship Out – Facing cuts in the Trump administration's proposed budget, the U.S. Coast Guard announced it is beginning a downsizing initiative to ensure its operations match the funding it is given. Beginning today, the Coast Guard is putting its entire fleet up for sale. USCG spokesman Douglas S. Halfempty said sales will fund the acquisition of vehicles and tools within the Coast Guard's budget, notably wooden dinghies, refurbished camp canoes from Camp Crystal Lake, slingshots and duct tape-wrapped pea shooters.
Back to the top
———————————————————————————————————————–

LEGO Awarded Southern Border Wall Contract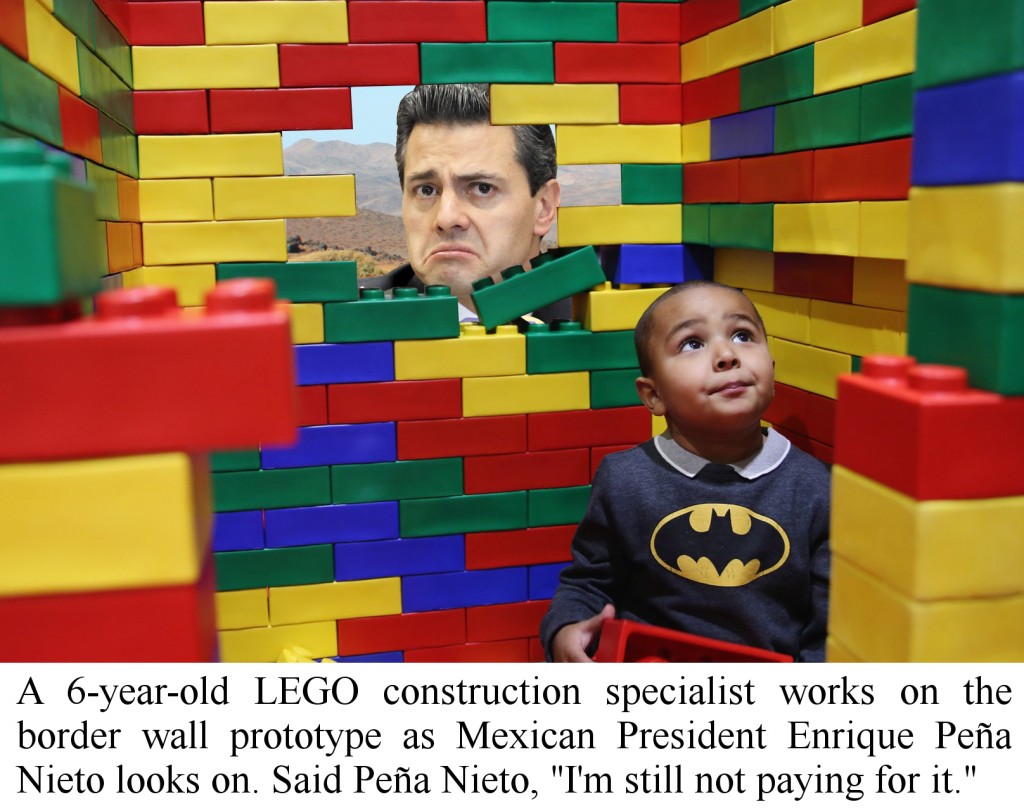 In a stunning announcement that rocked the traditional government contracting community, DHS, GSA and the US Army Corps of Engineers announced that LEGO, the Danish toy company, has been awarded the contract to build the new impenetrable wall along the southern border. Beating out legendary construction competitors Lincoln Logs, Erector Sets and Jersey Boys Cement Shoe Outfitters, the massive $16 trillion contract will dramatically transform the notoriously difficult and porous border.
When asked what he thought made his company's proposal successful, LEGO company spokesperson Handme Thatone explained that "color and creativity come alive with each opened box." He also explained that unlike his competitors, LEGO has built in security features that others do not possess, saying, "Have you ever stepped on a LEGO in the dark and in bare feet?"
Thatone also explained that labor costs would be dramatically cheaper given that thousands of 6-13 year old children would be invited to assemble the wall, negating the need for more costly older workers.
In a hastily arranged press conference, journalists peppered Sean Spicer with questions about Trump's promise to use American companies to build American products. Said Spicer: "I believe I have not been aware of knowledge that I believe to not be the case."
Back to the top
———————————————————————————————————————–

UFC Fighter Tapped as New White House Press Secretary
President Trump intends to replace Press Secretary Sean Spicer with UFC champion fighter Conor McGregor. From the opening moments of his presidency, rumors have circulated that the president has been unhappy with Spicer's performances in the regular White House press briefings and wants to bring in someone with edgier answers and more combative arguing skills.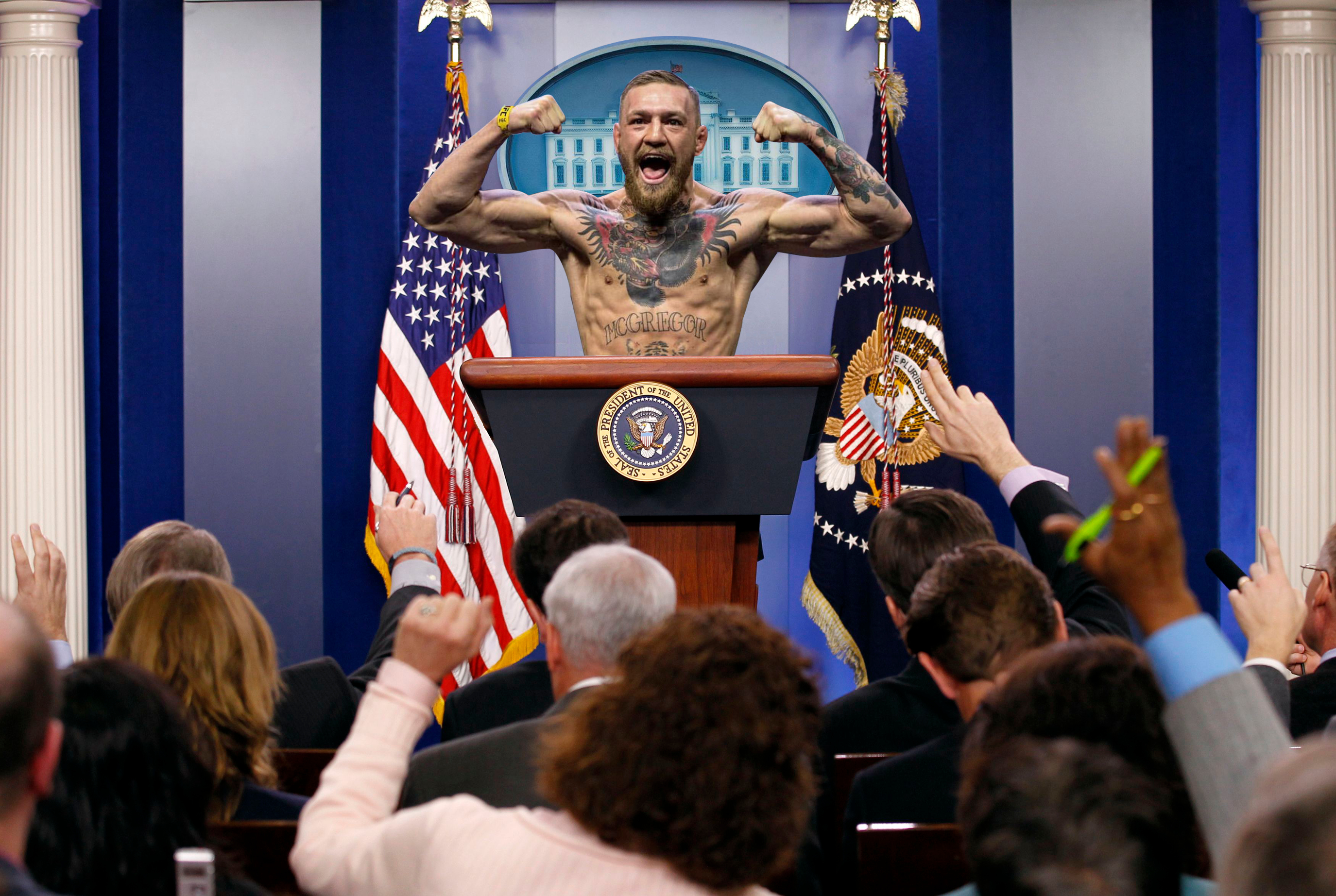 Reached at the Trump International Hotel, where he had just been awarded Trump International's "Greatest and Truly Very Special Employee of the Year" plaque for the 34th year in a row, the President said, "I love Sean. He's a beautiful man with a yuge heart that loves this country deeply, but I need to have someone who is ready to tear the flesh off the faces of very fake news media and snap bones with a scissor kick. That's Conor. Did you see that white fur jacket and pajama ensemble he wore to the UFC press conference with Eddie Alvarez and attempt to throw the chair at him? I saw that and I thought, that's the kind of man I need fighting for my team."
The president said he wants McGregor to single out one news outlet and make an example of them. He said: "I am tired of that fake news CNN reporter Jim Acosta. I told Conor, the first time Acosta starts waving his hand, he has my permission to rip his arm off and beat the press corps into submission with it."
Security Debrief caught up with McGregor as he moved into the Press Secretary office with his small box of office supplies, which included duct tape, razor blades and a staple gun. McGregor smiled, cracked his knuckles and rolled his head in a circle: "Those lasses are gonna get their asses kicked! Bring it on baby!"
Back to the top
———————————————————————————————————————–

From our sponsor: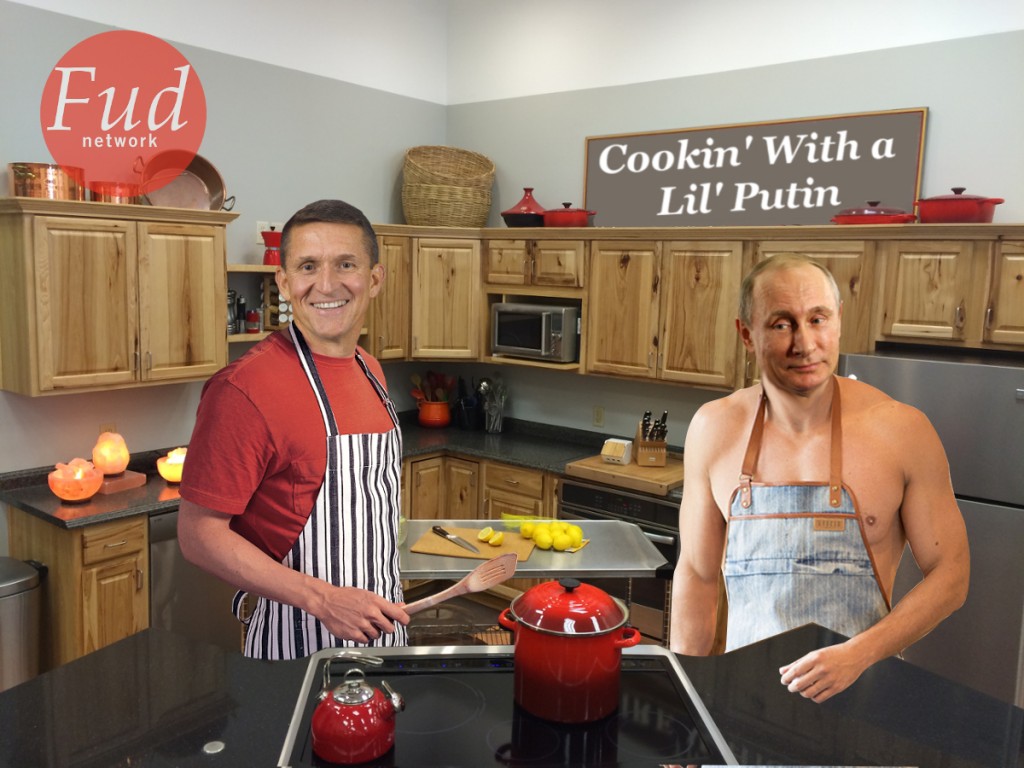 ———————————————————————————————————————–
Fud Network Announces New Show, "Cookin' with a Lil' Putin"
In another ground breaking career expansion, former Trump advisor Michael Flynn announced he has signed an exclusive deal with the Fud Network for his own cooking show. The hour-long program, "Cooking with a Lil' Putin," will feature Flynn sharing his favorite secret recipes co-created with Russian President Vladimir Putin.
Shot each week in a different dysfunctional geopolitical location being disrupted by Russian intelligence services, or by bogus, conspiracy-laden news stories that play to the black-van crowd, the Fud Network saw an opportunity to help the American public better understand the beleaguered and passionate patriot and the 21st century's bare-chested, imperialist czar.
In a press release, Fud Network creative director Don'ta Believethis explained, "Nothing brings people together like food, and if you can bring together two great unheralded cooks like Mike and Vlad to show that everything is OK when we share our deepest, darkest secrets, there's a chance for peace. We want to be the network that makes that possible."
Security Debrief asked Flynn what the duo would be cooking in the first episode.
"Vlad is making his babushka's borscht," he said. "He had to visit a Siberian gulag to get the recipe from her. For my part, I'll be cooking what I call Collusion Casserole. It's a secret family recipe, but of course Vlad already knows that one. He knows…all my secrets."
Back to the top
———————————————————————————————————————–

It's Time to Get Thin Again
The Trump Administration today announced an extension of its two-for-one regulation elimination program to personnel decisions that occur after the current hiring freeze is lifted. Presidential Executive Order 2-4-1 is directed to all federal cabinet officers, including the Department of Defense, as well as independent agencies, such as the Federal Communications Commission and the Federal Reserve Board. The only entity specifically exempted from the dictate is the White House's own Executive Office of the President.
President Trump's order is remarkable in its brevity:
"Effective upon enactment of the budget for the remainder of Fiscal Year 2017 and continuing thereafter until the end of my term as President of the United States, for every employee hired by any federal government entity, other than the Executive Office of the President, two federal employees shall be terminated immediately and shall not be allowed to return to federal service in any manner (neither as an employee nor as a contractor or subcontractor) for a period of not less than five years."
In a press statement, the White House said the President was "sick and tired of unpatriotic federal judges" finding problems in his Executive Orders. "The more words we put in an Executive Order, the more these un-elected elitists find to criticize. Since I am so smart that I don't need a lot of words to communicate, which is why I like Twitter a lot, it is natural for me to get straight to the point."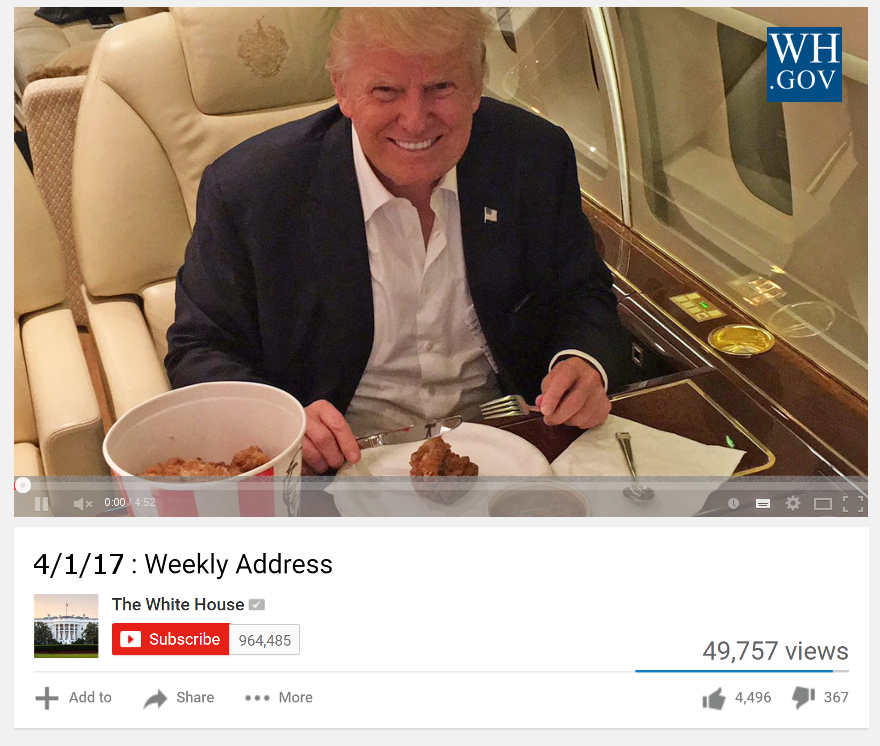 Trump created a YouTube video explaining his action while also enjoying a KFC dinner. He said, "The only thing that will be big in my administration will be the big and beautiful wall we will build on the southwest border. We submitted a 'skinny' budget, and we will have a 'lean and mean' workforce. The failing New York Times has wrongfully criticized me for being 'thin on facts' to support my statements. They are just so wrong about this that is it unbelievable and no one should believe them."
Trump continued, "If you know anything about Donald Trump, you know that I like thin. Just look at my beautiful wife and all of my beautiful ex-wives. I picked them because they were thin. My exquisite daughter and my gorgeous granddaughter both sold Thin Mint cookies when they were in the Girl Scouts, and they did it better than anyone else because both of them are thin. One of the first things I did after the election is get rid of that fat guy from New Jersey, Christopher somebody. That is what I want the rest of the government to do, get rid of the bloated workforce. We are going to reduce the number of federal workers, and we are going to make people work hard. We are going to get thin again!"
Trump did not explain why the Executive Office of the President was exempt from the EO. The White House referred questions to Presidential Advisor Steve Bannon, who was unavailable due to a commitment to accompany Food Network's Guy Fieri on a "Diners, Drive-Ins and Dives" exploration of American fast-food establishments in nearby Germantown, Maryland.
Back to the top
———————————————————————————————————————–

Camp David Becomes Federal Program Hunger Games Facility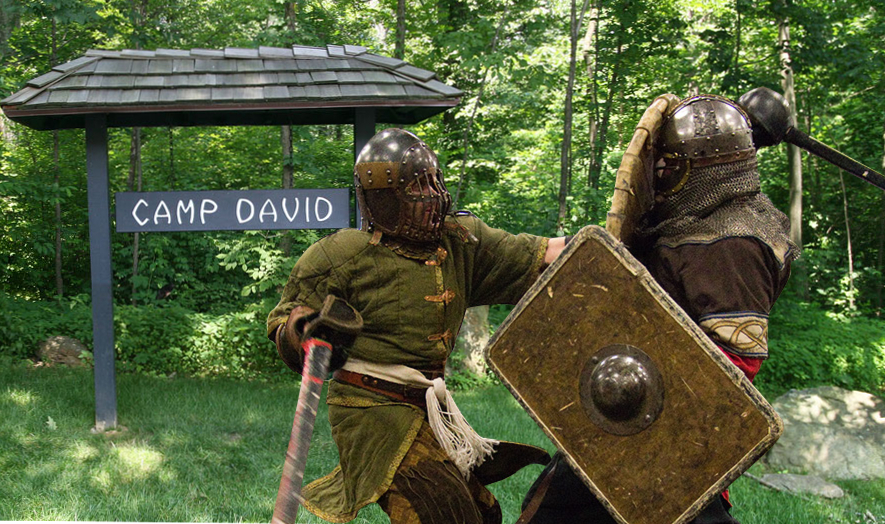 President Trump is converting Camp David, the long held presidential retreat in western Maryland, into a survival contest arena and training ground. Modeled after the Hunger Games, government programs slated for elimination or drastic budget cuts will fight for fiscal year survival.
A Trump spokesperson and survivalist expert who wished to remain anonymous because the odds were not in her favor explained, "Since the President has no use for Camp David and its rustic quarters, he thought it would be great to convert the wilderness facility into an arena where government programs fight for their lives."
OMB Director Mick Mulvaney and The Apprentice co-producer Mark Burnett are in serious negotiations on federal participants and sponsorship packages. Said Mulvaney in a brief moment with reporters following his weekly bloodletting with OMB Examiners, "This is going to be a ratings bonanza for us. It's going to be bigger than the XFL, USFL and the Pro Bowlers Tour combined!"
Security Debrief has learned the first round of death matches will include the National Endowment for the Arts, the Environmental Protection Administration, NASA's Earth Science programs, the Office of Government Ethics, NOAA, USAID and most of the State Department.
Featured contest weapons will include death by PowerPoint, sharpened pointless acronyms, meandering staff meetings, teleconferences, OMB SWOT charts and Metro passes.
SBA Administrator Linda McMahon and her WWE co-founder husband and professional wrestling executive Vince McMahon will host the weekly television spectacle on C-Span beginning this summer.
Back to the top
———————————————————————————————————————–

Kellyanne Conway Nominated to Lead S&T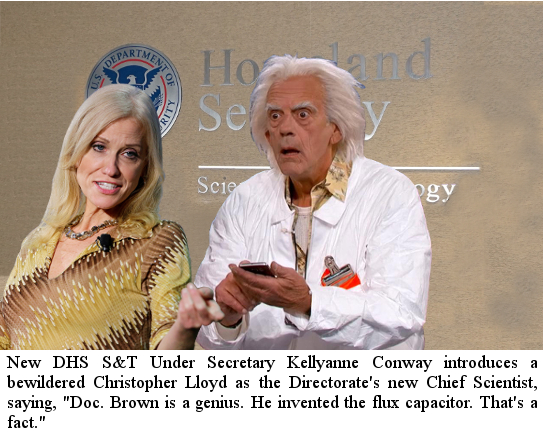 The White House announced its intent to nominate former Trump campaign manager Kellyanne Conway to be the next Under Secretary for Science and Technology. Newly minted White House Press Secretary Conor McGregor said Conway was President Trump's first and only pick for the position. "There is no Plan B on this nomination, mate," McGregor told Security Debrief while wielding Jim Acosta's arm.
"The Science and Technology Directorate at DHS went through a very demoralizing period during the Obama Administration, according to employee satisfaction surveys taken at the time," said Trump. "They were at the bottom of the bottom of the entire federal government. It's just not acceptable. Morale at S&T needs to change, and if anyone can change morale almost overnight in an organization, it's Kellyanne."
"My friends at Mar-A-Largo tell me that the best scientists do not take anything at face value but engage in a rigorous scientific analysis before they will admit something is a fact or just a belief. They do not accept other people's version of the truth. They conduct their own investigation of facts, alternate facts and the absence of facts. When I learned that, it was clear that Kellyanne was the perfect person for this position. This job has her name and core strengths all over it," Trump exclaimed.
S&T employees said they were not authorized to discuss the nomination until grief counselors had completed their therapy sessions for individuals inside S&T's Vermont Avenue offices.
Back to the top
———————————————————————————————————————–

Trump Administration Engages Private Sector to Maintain Border Wall
Inspired by the wildly popular "Adopt-A-Spot" highway program, President Trump announced the creation of a public-private partnership with "The Wall Area Cleaning Crew Organization, Southwest" (WACCOS). The WACCOS program will enable patriotic Americans "to keep the border unbelievably clean and safe – definitely safer and cleaner than it has ever been in the entire history of the universe," President Trump announced in an early morning tweet.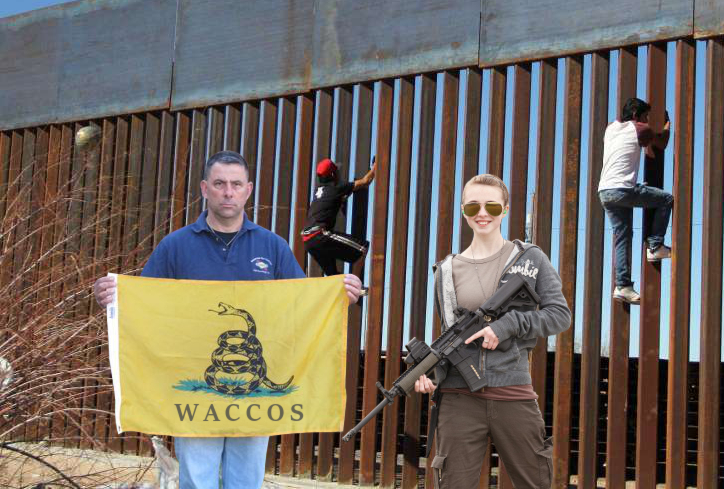 One of the biggest problems for local landowners along the southwest border is keeping their land clean of discarded plastic water jugs, abandoned clothing, drug containers and used furniture left behind by illegal migrants. In addition to picking up abandoned debris, the WACCOS volunteers are also authorized to repair damage to the wall, test and recalibrate sensors, restring barbed wire, provide a fresh coat of paint, and place other aesthetically pleasing decorative symbols on the wall.
DHS Secretary John Kelly said the strength of America was found in private sector volunteer organizations. "The WACCOS program builds on America's cultural heritage of volunteerism," he said. "When I was a Marine, I learned the value of volunteer support organizations. When the President's youngest son, Barron, suggested this idea to his father, the President told me to make it happen. That's what I intend to do."
Each volunteer will be DHS certified. Certification will require each person to submit to a background check, unless they have an existing NRA lifetime membership, and at least one member of their group will have to be proficient in welding and/or concrete repair. Each Certified WACCOS will be responsible for one mile of the southwest border and will pay DHS $100 for the privilege of selecting the area they want to cover.
"We want the Certified WACCOS to deliver results and do so in a manner that will be budget neutral. DHS will be their partner, of course, by providing training, trash bags, orange safety vests, and 300 rounds of ammunition for each volunteer who signs up for the 12 month assignment," Kelly noted.
Clark Morkowski, an official with US Customs & Border Protection, told Security Debrief the WACCOS program differed substantially from a CBP effort several years ago. That program, Modeling Adversary Reactions, Validating Experiment Limitations (MARVEL), attempted to build a national volunteer entity, like the Girl Scouts, to monitor, patrol and repair the "virtual wall" that was to have been created by the SBInet program.
"That 'One Size Fits All' approach turned out to be anathema for Secretary Janet Napolitano, and she killed it outright," said Morkowski. "This new program will be different from anything CBP has ever done."
85 individuals and groups signed up online at www.certificedwaccos.gov in the first 12 hours after the program was announced by the White House.
Back to the top