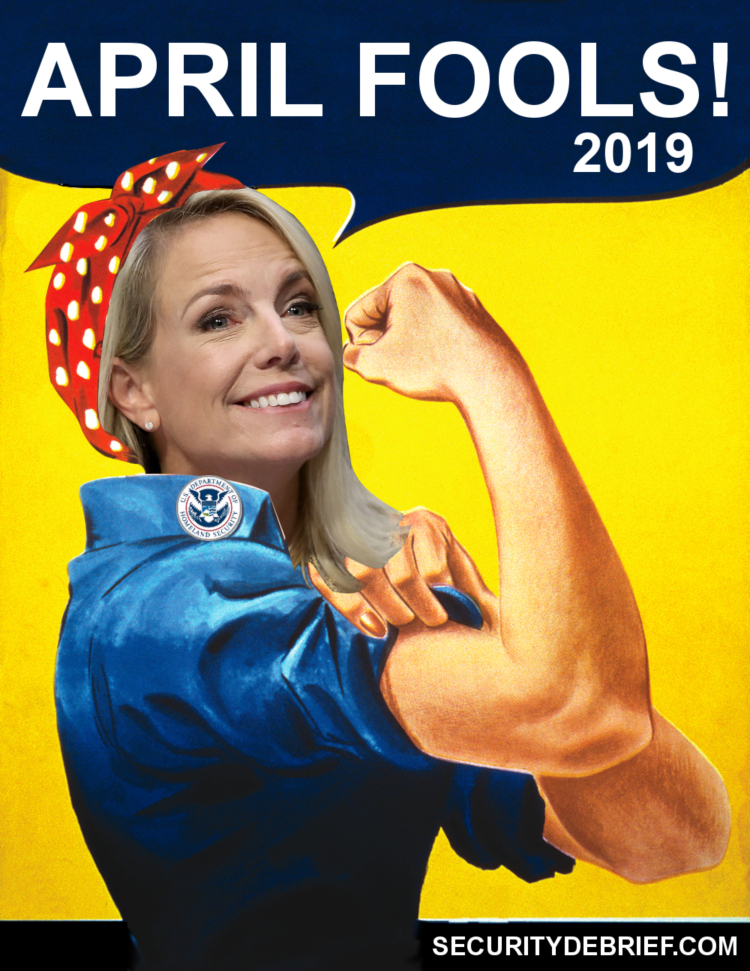 For Security Debrief's 10th annual April Fools coverage, we've collected stories the rest of the media somehow missed…
———————————————————————————————————————–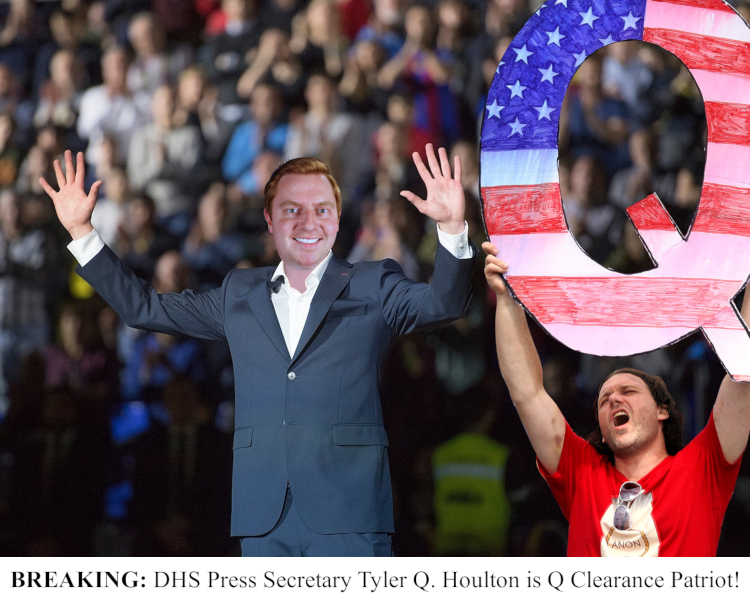 DHS Press Secretary Revealed as QAnon Source
In a shocking press conference this morning, DHS Press Secretary Tyler Q. Houlton revealed that he is the anonymous "Q" who has been promoting conspiracy theories online.
"To all my faithful followers out there," said Houlton, "It's all true. Every last insane word of it."
In 2018, an anonymous individual going by "Q Clearance Patriot" started posting in online forums claiming to hold classified information about a "deep state" conspiring against Donald Trump. The conspiracy theories have fueled a growing horde of paranoid online followers.
Security Debrief asked Q whether there were other deep state secrets to share.
"You have no freaking idea," he said and elaborated:
Former FEMA Administrator Brock Long was using agency vehicles to visit FEMA camps holding aliens from Alpha Centauri. He resigned because the aliens want Michael Avenatti to lead U.S. disaster management.
CBP Commissioner Kevin McAleenan is the love child of former CBP Commissioner Gil Kerlikowske and RoboCop.
In an effort to grow the ranks of his agency, ICE Director Thomas Homan has secretly adopted 32,000 unaccompanied minors and is raising them to become ICE agents.
TSA Administrator David Pekoske is considered by the deep state to be too competent and will soon be sent to a North Korean concentration camp, the same fate that befell his predecessor, Peter Neffenger.
USCIS Director L. Francis Cissna is using biometric exit-tracking to scan the population for vaccinations and has teamed with the Air Force to use jet contrails to spray health-harming smallpox vaccines.
Coast Guard Commandant Adm. Karl L. Schultz is lobbying Congress not to fund new icebreakers because he is himself a polar bear and the ships scare away the seals.
Robert S. Mueller III was kidnapped in 2017 and taken to the Nazi Moon base while an advanced Mueller costume was designed for First Lady Melania Trump, who impersonated the former special council. This explains her infrequent public appearances and "Mueller's" two-year silence.
Back to the top
———————————————————————————————————————–

Total Exoneration

Back to the top
———————————————————————————————————————–

Thompson Seizes Oversight Jurisdiction of DHS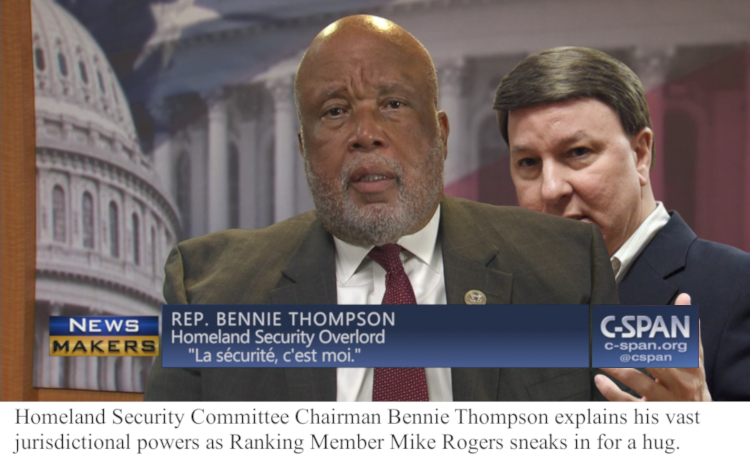 After enduring years of frustration from sharing DHS oversight jurisdiction with more than 80 other congressional committees and subcommittees, Committee Chairman Rep. Bennie Thompson (D-MS) seized complete jurisdiction over DHS and all of its component agencies using a little known, and barely understood, provision in House Rule MMXIX (4)(i), which gives the chairman of a standing committee "the ability to assert primary and exclusive jurisdiction over an issue if the House Parliamentarian does not file a written objection to such request within 20 days from the date a written inquiry from such chairman is sent to the Parliamentarian." Thompson mailed a hand-written letter to temporary House Parliamentarian, Henry Martyn Roberts VI, late in the evening of February 15th ahead of the Presidents' Day holiday.
The letter claiming jurisdiction over all DHS activities had to undergo chemical and biological agent eradication using high-intensity irradiation before it could be delivered. Because the previous 35 day partial federal government shutdown affected the mail processing facility in rural Pennsylvania, Thompson's letter was not marked "received" by the Parliamentarian's office until March 5. By the time Mr. Roberts ruled on Thompson's request, 25 days had elapsed and under the House Rules it had become effective.
"Mine!" Thompson shouted from the dais. "Finally. I've been trying to implement the final recommendation of the 9-11 Commission Report for 15 freakin' years. Now, thanks to President Trump's idiotic federal government shutdown and the necessity of irradiating mail, I've been able to accomplish something the Republicans never could. The White House and DHS have no idea what is about to happen to them. Someone call Nielsen about cages!"
Homeland Security Committee Ranking Member Mike Rogers (R-AL) gave grudging praise to the Homeland Security Committee Chairman: "My granddaddy Fineas T. S. Rogers told me about the ruses folks from Mississippi used to play on carpetbaggers. This was as smooth a move as I've ever seen during my tenure in Congress. Well played, sir."
Ima Bloviator, spokeswoman for House Speaker Nancy Pelosi, said: "Speaker Pelosi does not get involved in such minor things as rules fights or jurisdictional battles. In fact, the Speaker has spent most of her time this week in meetings with her leadership team coming up with new ways to vilify Secretary Nielsen."
Back to the top
———————————————————————————————————————–

Pelosi Creates Intolerance Caucus for Disruptive Reps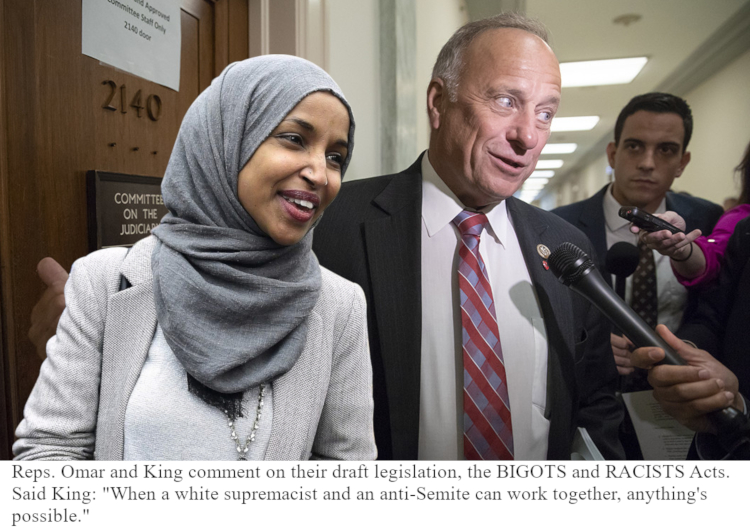 Admitting exhaustion from so many resolutions denouncing hate, Speaker of the House Nancy Pelosi today announced the creation of a new Intolerance Caucus and assigned representatives to it.
"There is no room for hateful rhetoric in this body unless it is being directed at the president," said Pelosi. "Those of us who need to take a time-out can go sit in the Intolerance Caucus."
The founding members of the Caucus are Reps. Steve King (R-IA) and Ilhan Omar (D-MN). King is best known for championing his white nationalist beliefs, while Omar gained notoriety for her anti-Semitic code speak.
"I gladly join with my friend Rep. Omar," said King. "She can sit over there on her side, and I'll sit way over here. Bipartisanship in action. Go White America!"
"Steve King and I have found a lot of common ground when it comes to Israel and those who support it, if you follow me," Omar said and winked. "There is nothing wrong with denigrating people while also casually throwing around anti-Semitic slang. King and I are in lock-step on this issue."
King and Omar said they are working on several bipartisan bills and are seeking co-sponsors from members of the Homeland Security Committee. King's "Recommending All Caucasian Immigrants So They Stay (RACISTS) Act" prioritizes immigrant visas for individuals based on the percentage of European heritage, as measured by melanin levels. Meanwhile, Omar's "Beware Israel Getting Other Types of Supporters (BIGOTS) Act" expands laws against terrorist financing to target anyone who has ever donated to a Jewish organization, seen a map of Israel, or watched a Natalie Portman movie.
Virginia Governor Ralph Northam of "blackface" fame sent a formal congratulations and invited King and Omar to the governor's mansion for a celebratory dinner and private screening of The Birth of a Nation.
Said Northam: "When I heard BIGOTS and RACISTS were moving through Congress, I knew I needed to meet these great Americans for myself."
Back to the top
———————————————————————————————————————–

Trump Administration Embraces Robert Frost Fence Institute Report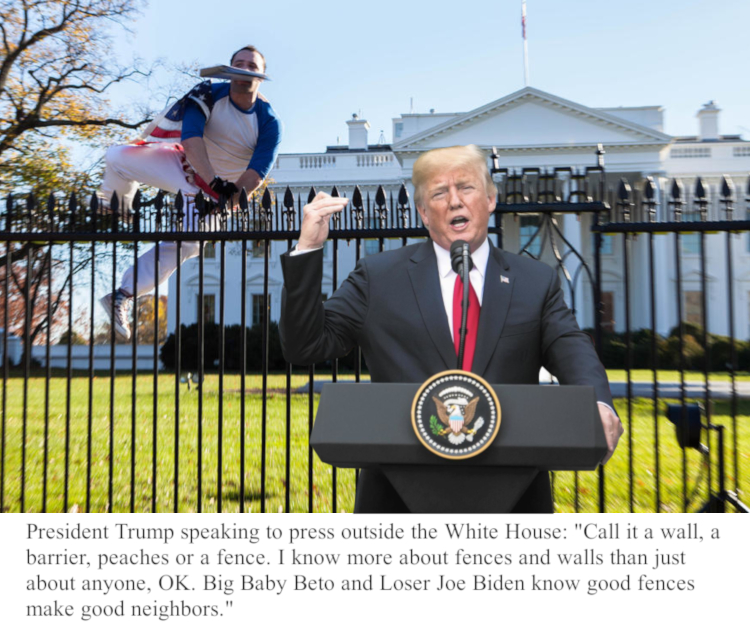 In an early morning tweet barrage, President Trump embraced a new report from the Robert Frost Fence Institute listing examples over the past 80 years of locations in each state where "good fences make good neighbors." The report, released to the public today, was edited by G. Ima Builder, the retired executive director of the National Association of Fence and Wall Constructors of America and the poet laureate emeritus of East Berlin Township, PA.
Entitled, "Fences, Walls and Other Barriers Key to US Good Neighbor Policy," the report is filled with pictures, architectural renderings, and four-color graphics of barrier systems in every state, annotated with positive comments about better neighborly relationships.
The president tweeted:
"Frost Fence Institute report confirms I am RIGHT. Walls work. Fences work. Barriers work. Crooked Hillary does NOT WORK! MS-13 Lover Nancy Pelosi has NEVER WORKED! Fantastic Fences WORK to create GOOD (not BAD) NEIGHBORS. MAGA by putting Americans to work! Build the big, beautiful wall NOW!
Back to the top
———————————————————————————————————————–
From our sponsors: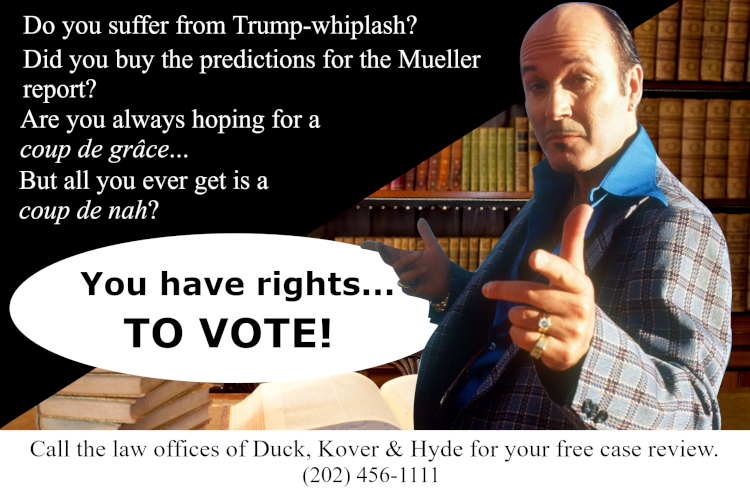 ———————————————————————————————————————–

DHS Brings BBC's Dr. Who Dalek Security Units to the Border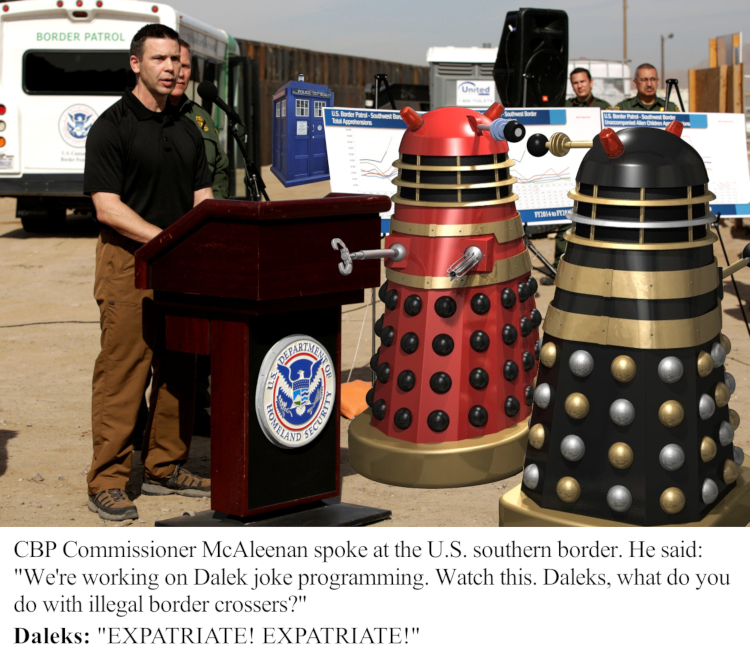 CBP Commissioner Kevin McAleenan announced today he has been instructed by the president to enter into a year-long R&D project with the BBC to deploy "up to 150 Daleks" along the U.S.-Mexico border. Reporters were told this refers to the ruthless extermination units featured on the Dr. Who TV show.
A tech-fan in border operations and also very short on help, Comm. McAleenan said:
"Since I was little, my father told me about the amazing technologies used by Dr. Who. I know time travel is possible, mostly because of the adventures through space and time of Dr. Who. Now we get to deploy a battalion of Daleks to help us address border challenges.
McAleenan acknowledged that CBP has a significant need for additional field agents. Recent congressional hearings highlighted problems with hiring, with GAO investigators finding the average time to hire is about 318 days—and less than 3% of applicants are hired.
McAleenan expressed confidence that the Dalek deployment would provide stop-gap coverage in areas where it is difficult for human officers to patrol.
"Some of this area is desolate and inhospitable to humans," said McAleenan. "Daleks can implement the president's prime directive…"
Back to the top
———————————————————————————————————————–

Napolitano Promotes Book and Tech on Tour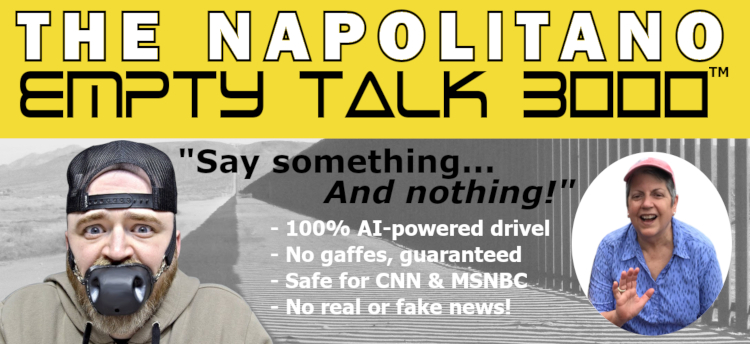 In advance of her new book, former DHS Secretary Janet Napolitano has been hitting the media circuit. She is promoting her new product line, the Napolitano Empty-Talk 3000 Translator, providing regular demonstrations of the technology's capabilities.
"This is ground-breaking, AI-level tech," she said. "Fit this over your mouth, and you are guaranteed to deliver news outlet-appropriate, totally innocuous, 10-second soundbites that contribute nothing controversial to the public dialogue. As we like to phrase it, 'Say something, while saying nothing at all.'"
The Secretary fitted the device over her mouth.
"First, let me say something that's true. When I was Secretary of Homeland Security, I permitted and oversaw the construction of long barriers on the U.S. southern border, what you might call a fence, or perhaps a wall. Half of those barriers were built in my home state of Arizona, where I was once governor."
The Secretary removed the device from her mouth as it flashed with small white lights. She asked it:
"Empty-Talk, give me that statement for CNN."
The device spoke perfectly in the Secretary's voice: "Walls are bad."
"Empty-Talk, give it for MSNBC."
"President Obama and I were committed to ending barrier construction from day one. And we did so."
Security Debrief's intrepid reporters interjected to ask: "Empty-Talk, give me that for Fox."
The device rattled, sparks flew and a wisp of smoke trailed up.
"We're still working out the kinks," Napolitano admitted. "But the results speak for themselves. I've been writing op-eds and doing press for a few months now, and I've contributed nothing new or thoughtful to the public dialogue. That's the Empty-Talk in action."
We asked the Secretary if she had any other public figures using her product.
"Joe Biden is an occasional user, but our poster boy is Beto," said Napolitano. "His use of Empty-Talk has been remarkable. He's said virtually nothing at all, and the press is already preparing to elect him."
Back to the top
———————————————————————————————————————–

Trump Issues Emergency Disaster Declaration on Congress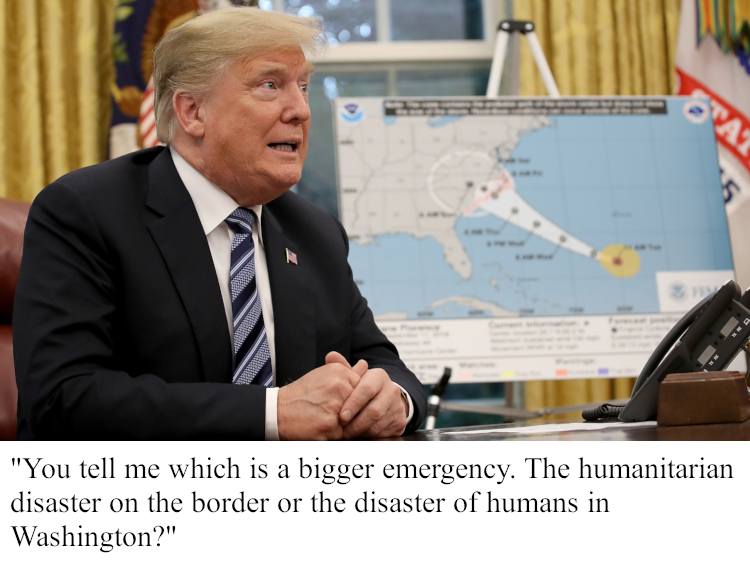 President Trump has issued an Emergency Disaster Declaration for an area described as "the 1400 acres deeded by Daniel Carroll of Duddington, the nephew of Daniel Carroll of Upper Marlboro, MD, to the US Government in the late 18th Century." Otherwise known as Capitol Hill.
The Disaster Declaration instructs FEMA to impose "a complete quarantine on personal travel and outside communication" and to coordinate the federal response to the area Trump said has suffered extensive damage and loss of functionality "unprecedented in the history of the world." This damage occurred, according to White House briefing materials, by "an invasion of witch hunters, communist academics, journalists, Michael Cohen, and swamp-dwelling Democrats."
Trump said the Emergency Declaration is necessary to "return the area, and those who work there, to the Founding Father's original intent, which was that Congress do whatever the President wants, whenever he wants it."
"From day one I have had thousands of requests from around the world to do this. After my absolute, total, irrevocable exoneration, I'm very, very, very comfortable with what I've done here. We are making America great again, through something called Trump's Law. Somebody said martial law. I mean, why not?"
Security Debrief asked Tyler Q. Houlton about the president's decision. In his newfound open Q-ness, Houlton revealed, "This is only the first step. Then we set up the FEMA camps, followed by the Daleks to exterminate!"
Back to the top
———————————————————————————————————————–

DHS HQ Moves to Insane Asylum Today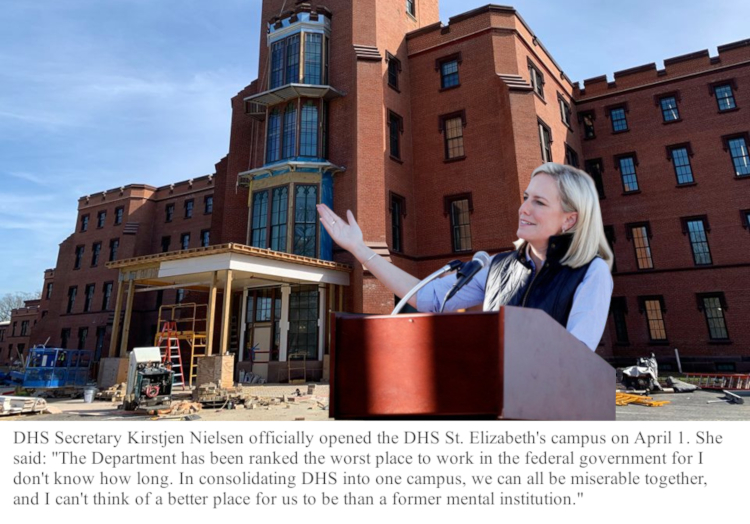 Editor's Note: This one is true. Serendipity is hilarious.
On April 1, 2019, the first group of DHS headquarters staff moved into the Center Building on the western side of St. Elizabeth's Hospital Campus in Southeast, Washington, DC. The DHS HQ staff joins the U.S. Coast Guard headquarters as tenants.
St. Elizabeth's is best known for being one of the oldest and most prominent treatment facilities for mentally ill patients in America. While a small facility remains on the main campus, GSA has spent the past decade renovating other portions of the pre-Civil War facility, which was originally known as the Government Hospital for the Insane.
Back to the top
———————————————————————————————————————–

Nielsen Receives 2019 Double-Talk Daily Top Award
Linguistics news agency Double-Talk Daily announced the winners of its annual award, which went to DHS Secretary Kirstjen Nielson for her "creative use of language to fully obscure meaning."
How did the Homeland Security Secretary win such a coveted award?
"We were impressed with the way she parsed a border-separation policy with a separation-immediately-after-the-border policy, but it was the House Homeland hearing that set her apart," said DTD Publisher Andy Winneriss, speaking of Sec. Nielson's March 4 appearance before the House Homeland Security Committee. "When I heard her debating Thompson on the definition of a cage, and so artfully, I thought, my God, she's a semantic star. Evidently, our readers and voters agree."
Announcing news of the award, a DHS Press Office release also introduced a new initiative, the Caring And Good Enclosure (CAGE) Program, designed to address the challenge of caring for minors who are apprehended at the U.S. southern border.
Having already peppered the DHS press office on a variety of absurd topics, Sec. Nielsen finally agreed to speak with Security Debrief.
SD: Madam Secretary, let's talk cages.
Nielsen: The Department does not use cages or cage-like structures, as defined by some Congressional Research Service findings, and we don't not use them to contain not-adults not at the border. What's more, there has never not been a policy of un-separating separated persons who were apprehended at the border.
SD: How would you define a cage, Madam?
Nielsen: Something about this big [Sec. uses arms to indicate a small space], and there are dogs in it.
SD: And the images from border facilities showing children in what are clearly cages?
Nielsen: "It's a detention space, as you know, that has existed for decades. It's larger. It has facilities. There are places to sit, to stand, to lay down." [Actual testimony]
SD: So a long-existing wire-mesh enclosure with room to sit and stand is no longer a cage?
Nielsen: Well, where do we draw the line? I mean, defining 'cage' has confounded philosophers for centuries. This is no simple matter. If you think about it, a fence can be a wall, a policy can be a law, and a cage can be just about anything we want it to be. That's why I'm so proud of our new, more palatable CAGE program. It was created specifically to contain not-adults in a welcoming environment, where the terrors of their journey are not compounded by the indifference of the wealthiest, most powerful state in history.
SD: CAGE is the best we can do?
Nielsen: It goes to show, where there's a will, there's a way.
Back to the top
———————————————————————————————————————–

S&T Computers Infected by RDM Exploit
DHS Science & Technology employees turned on their computers this morning and found that their system had been hacked. Rather than seeing the standard sign-on page, they discovered it had been replaced by a full-screen photo montage of S&T employees covered with large red letters: "APRIL FOOLS."
DHS Cyber Security Division (CSD) employees identified the hack by special codes written into the bottom right-hand corner of the screen with the letters RDM, the name of a clandestine hacker group known as the "Russian Defense Ministry." They told Security Debrief the exploit was eerily reminiscent of a proposed S&T cyber challenge for high school students that had been advocated by former S&T CSD Director Doug Maughan but previously rejected by CISA Director Chris Krebs in what was viewed internally as a continuation of a contentious power struggle over who would be the cyber lead within the Department.
Maughan was one of the most publicly-visible S&T Division heads, something that often rankled former NPPD (now CISA) cyber focals who, according to Maughan's former CSD co-workers, was fueled by jealousy that he actually accomplished things and was not hampered by DHS processes. CISA employees say that Maughan was very opinionated and that CISA cyber expertise was never fully appreciated, expressing relief that he is now at the National Science Foundation.
Neither Maughan nor Krebs were available for comment but Ima X.Hacker, a retired NSA cyber forensic expert, told Security Debrief that the RDM exploit was akin to giving a "big middle finger" to DHS. "It is obviously a play on the highly-touted CDM (Continuous Diagnostics and Mitigation) program that DHS forces on other agencies but fails to apply to itself," Hacker said. "DHS does not practice what it preaches and this is a perfect way of showing it to the world," he continued.
"Doug's Division almost had their research budget stolen by CISA last year but Congress intervened and stopped it. I doubt Doug perpetrated this stunt as a parting gift to S&T, but whoever did it has a great sense of irony. RDM, after all, could be read as a message to 'Remember Doug Maughan' much in the same way that Texans 'Remember the Alamo,'" Hacker speculated.
Back to the top
———————————————————————————————————————–

A Note from Security Debrief's Regrettable Editor
Ten years ago, Chris Battle, David Olive, Rich Cooper and I had lunch at Off the Record in the Hay Adams across from the White House. A confederacy of wiseasses with cheeseburgers and a blog, who could say who said it first, but at some point, the idea of an April Fools edition was born. On this decennial, we're barely as funny as we set out to be—and usually by accident.
Thank you for reading.
Justin Hienz
Editor, Security Debrief