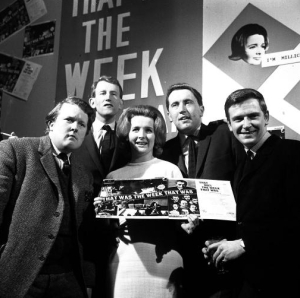 One of the earliest political satire shows on television was the early 1960s BBC program, "That Was The Week That Was," known by its colloquial name, "TW3." It helped create the career of a young news reader/interviewer named David Frost and helped develop the writing skills of Graham Chapman and John Cleese, who went on to found the Monty Python comedy troupe.
The program, which was broadcast on Saturday evenings, was a major hit at the time as it broke new ground in adapting political satire to the medium of television. The program concept was later picked up in the United States by NBC, and the US version of TW3 was broadcast for a couple of years. In my view, TW3 was the precursor of the early political satire segments of Saturday Night Live and created a rough template for the ultra-popular recent cable shows of Jon Stewart and Stephen Colbert.
The BBC show started with a song sung by the magnificent Millicent Martin, the first line of which was: "That was the week that was, It's over, let it go …"
The words of that song, and the premise of the TW3 program, come roaring back to me as I look back on the week that just ended. In a span of seven days:
WOW… and that was just a few of the things that happened last week in addition to a "snow event" that shut down the federal government and most of the Washington, DC, area for several days.
No wonder the Washington Post's Greg Miller ended the week with a thoughtful and sobering analysis, concluding that U.S. counterterrorism officials and experts have entered a period of "particular gloom," which reflects a pessimism that has descended on the CT community "over the past year amid a series of discouraging developments." Given the list of events of this past week, I'd normally be depressed too, but I know that not all is doom and gloom. How do I know this?
Spring training baseball games have started. The snow is melting. DHS is funded. The federal government did not dive into the abyss. Daylight Savings Time kicks in and most dairy cows will not be confused nor thrown for a loop. The barbecue grill is almost ready.
The month of March came in "like a lion." Who knows what will happen next? As the BBC song lyrics say, "That was the week that was, it's over, let it go …"