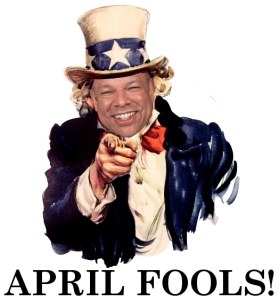 In Security Debrief's sixth annual April Fools coverage, we've collected stories the rest of the media somehow missed…
———————————————————————————————————————–

Obama to Nominate Chicago Mayor Rahm Emanuel for TSA Administrator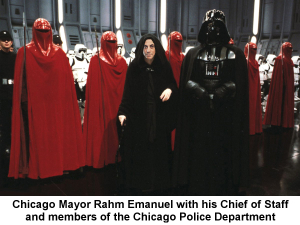 The Obama Administration announced today that it intends to nominate Chicago Mayor Rahm Emanuel for Administrator of the Transportation Security Administration (TSA). The White House said in a statement that "given his public service in the U.S. House of Representatives, as Chief of Staff to the President, and now as Mayor of Chicago, the Administration believes Mr. Emanuel is the ideal candidate to lead the madhouse that is TSA."
"You're God damn f—in' right I am," Emanuel told reporters during a hastily gathered press conference in his Chicago office. "You won't find one f—ing person in this whole f—ing country who can twist Americans' arms like me. And that will be one of my first actions as Administrator, to amend airport checkpoint screening to include actual arm twisting. Nothing says security like four TSA screeners body slamming you into the baggage conveyor belt as they grab your junk."
A Chicago Tribune reporter asked whether as Administrator Emanuel would implement the use of secret detainment facilities, like the warehouse on Chicago's west side that was reportedly used by the Chicago Police to illegally hold and beat prisoners. Emanuel showed uncharacteristic restraint in his measured response.
"The last f—ing person who asked me that f—ing question is shoveling f—ing penguin sh-t in f—ing Antarctica," he screamed and hurled a chair across the room. "Get it straight. You keep asking stupid questions like that, and I'll have your editor demote you to writing f—ing obituaries. I have some 'union' friends who can help put you on obits forever. Hint f—ing hint."
"Mr. Mayor, my paper has asked repeatedly for a tour of this illegal detainment facility," the reporter pressed, at which point Emanuel whispered something to his chief of staff, Lisa Schrader, who snapped her fingers and three of Chicago's finest marched in and dragged the reporter away.
A Daily Herald reporter said: "Mr. Mayor, it's well known that your brother is the basis for the character of Ari on the HBO hit, Entourage. Less well known is that you are the basis for Frank Underwood on the Netflix series, House of Cards. Will your new role at TSA prevent you from continuing to work with the show?"
"I have no time to watch television so am not familiar with this House of Cards," said Emanuel. Then he turned in his chair and spoke in hushed conspiratorial tones, delivering a monologue in a southern accent to an unseen home TV audience. "Oh how I hate having to explain myself to the unwashed masses. The First Amendment was the first mistake this country made. When I am king, I'll round up all the reporters in a camp and—"
"You know we can hear you," said the reporter, studiously taking notes. At this point the Chief of Staff stepped in, announcing the end of the press conference. As the reporters were pushed out with cattle-prods, a reporter asked: "Do you have any words for the traveling public?"
Emanuel smiled: "See you at the airport motherf—ers!"
Back to the top
———————————————————————————————————————–

House Homeland Security Committee Investigates Discrimination Against Men With Hair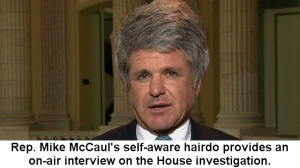 House Homeland Security Committee Chairman Michael McCaul (R-BigHair, Texas) announced today that his committee will hold a hearing in the coming weeks to investigate claims that the White House personnel office was discriminating in its selection process to fill leadership vacancies at the Department of Homeland Security (DHS). McCaul claimed that there had been numerous complaints to his office that otherwise qualified men had been rejected in favor of those who were "folicly-challenged."
"One look at the men the White House has nominated over the past year shows that there is a pattern of discrimination here… and that pattern seems to be picking men whose heads look like the opposite of mine," said McCaul. "I don't know what is going on down at the other end of Pennsylvania Avenue, but there is not only a double standard being applied when it comes to male and female nominees, but it is crystal clear to me that if you are a man and have hair on your head, you need not apply for a leadership position at DHS. This is incomprehensible to me."
McCaul counted off some of the bald men who were recently confirmed for DHS and federal positions: DHS Secretary Jeh Johnson; Deputy Secretary Alejandro Mayorkas; S&T Under Secretary Reggie Brothers; I&A Under Secretary Frank Taylor; USCIS Director Leon Rogriguez; and US Secret Service Director Joseph Clancy; NSA Director James Clapper; CIA Director John Brennan; and the recently retired Commandant of the US Coast Guard, Rear Admiral Robert Papp.

McCaul, who in 2014 was awarded the "Newt Gingrich Honorary Award for Massive Head Hair" by the Men's Hair Preservation Society, noted that White House personnel have had no problem nominating women who possess full heads of hair, singling our NPPD Under Secretary Suzanne Spaulding as an example.
"I know hair when I see it, and it is clear that no one at the White House had any problem nominating Suzanne," said McCaul. "Just take one look at her and you would think she was from Texas. I bet she has a stylist that would make our former Governor Ann Richards quite jealous. She is doing an outstanding job, and it seems that her hair is not a distraction."
DHS Secretary Jeh Johnson told Security Debrief that McCaul's committee ought to be holding hearings on more substantive issues.
"Are you kidding me? They can't even pass an immigration bill," Johnson said with a deep sigh. "This is ridiculous. If there is a pattern they will discover, it is the pattern of male baldness."
Back to the top
———————————————————————————————————————–

DHS Announces PreK-Check Program for Unaccompanied Alien Children

With thousands of unaccompanied alien children (UAC) coming across the U.S. southern border, DHS Secretary Jeh Johnson has frequently found himself challenged by Congress, the news media, and immigration interest groups to find a way to deal with the problem. Today, Johnson answered his critics. Standing beside Secretary of Education Arne Duncan and Secretary of Health and Human Services Sylvia Burwell, Johnson gushed in announcing the program dubbed "PreK-Check."
"Until today, we have failed to find a way to expand TSA's Pre-Check program in any significant way," said Johnson. "By enrolling UACs in PreK-Check, acknowledging their very special status as children, we expect to get our enrollment numbers up by an additional half a million, assuming we maintain the same enforcement posture that we did last year and those kids keep coming. That is a metric for success we can all feel proud about."
Education Secretary Duncan agreed, adding:
"For the Department of Education, it is a numbers game. By participating in this program, we will increase our enrollment in local welfare programs by at least another 500,000 children. DHS will 'check' them into the country, HHS will process them into the local community, and the Education Department will insert them into a local Pre-K program."
Meanwhile, UACs will enjoy expedited screening and a more efficient, comfortable illegal immigration process. With PreK-Check, young people will not have to take their shoes and belt off as they pass through security, nor will they need to take their laptops, gels and other liquids out of their backpacks. Secretary Johnson championed the program as a win-win situation and will travel to the Rio Grande Valley in the coming days to take part in a PreK-Check signup event.
Security Debrief interviewed newly arrived 8-year-old Jose Cuervo about whether he will join the new program. Said Cuervo, "¿Que?"
Back to the top
———————————————————————————————————————–

New Jackson Lee Book: Fifty Shades of Sheila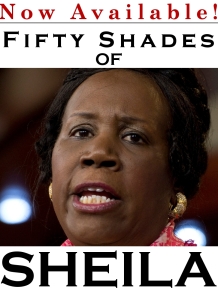 In an early morning press release, it was revealed that long-time U.S. Representative Sheila Jackson Lee is releasing her first book, Fifty Shades of Sheila. The release described a book that covers the storied legislator's distinguished career from back bencher, bench presser and bench thrower.
"There's no one who knows how to make a Congressional hearing or a live Presidential Address before Congress more compelling or memorable than me," the Congresswoman said in the release. "It's all about where you sit. How to make eye contact with a witness. How to make sure the TV camera catches you just so…I do that better than anyone."
The 365-page tome is being published by a recently created multimedia subsidiary of MSNBC News, "NOONEISLISTENING Press" and offers the Congresswoman's daily guidance on: recruiting and inspiring staff; ways to boost employee morale; how Red is my color; how to question with a velvet-glove; and her trade secrets on how to make a garlic milkshake with a memorable aftertaste that will leave the public wondering how they could ever live without you.
To help broaden the book's outreach and generational impact, 1980s recording artists Ready for the World have re-released their smash single, "Oh Sheila," with clips of some of the Congresswoman's most insightful and inspiring statements. Joining in on the new video are noted drummer and Prince protégé Sheila E and baseball pitching phenom 50 Cent. With a newly added chorus, the song encourages listeners and readers to "Find your own fifty shades with Sheila."
So as to cater to the throngs of admirers, a book release party will be held at an undisclosed location with legions of the Congresswoman's former staffers in attendance, all of them self-medicating with tranquilizers so as to cope with the energy in the room.
When asked by Security Debrief editors his thoughts on the new book, the House Homeland Committee's Ranking Democrat Rep. Bennie Thompson said, "No one quite lights up a room like Sheila. You can't possibly contain her. You just have to stand back and watch the magic happen. It's sort of like sitting on your front porch when a tornado comes by. It's gonna take something with it, and you never know where it's gonna land next. So just watch out and DUCK!"
Back to the top
———————————————————————————————————————–

Feds Monitoring New ISIS Online Dating Site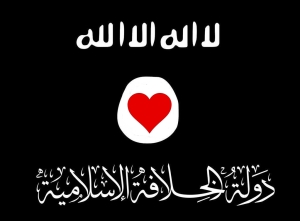 The terror group ISIS has surprised the world with its sophisticated use of social media. Now U.S. officials are concerned about a new ISIS match-making site, JihadiHotty.com. The site, which launches today, touts itself as "the world's first dating site for Mujahedeen."
"My goal is to bring people together in love before they blow themselves to pieces," said JihadiHotty.com founder Ahmed Ahmed bin Ahmed al-Ahmed. "We've all got 72 virgins coming, but what about companionship while you're jihading your way across Iraq and Syria? That's where we come in."
Users can search JihadiHotty.com for mates based on interests (e.g., martyrdom and mass murder), favorite pastimes (raping and pillaging), and long-term goals (suicide). Beta testers have reported some initial concerns with the site.
"All the women's pictures look exactly the same," said George Henry Briton, III, a British jihadi living in Syria. Indeed, a quick perusal of the site reveals that every female user wears a black hijab and veil in her photo. Briton added: "It's more like a dating site for ninjas."
Female beta testers were equally underwhelmed.
"I'm amazed at the amount of facial hair in these profiles," said a female tester who spoke on condition of anonymity. "Like, it's just big beard with crazy eyes; big beard, crazy eyes. Sometimes, a red beard! Boring. Enough with the maniacal ominous stare. Show a gal the sensitive side. Also, I keep messaging people only to find out they already martyred themselves. One guy even had the nerve to suicide attack the restaurant across the street from where we were scheduled for a date! Do you think I got my surf and turf dinner that night? Nope. What a jihadi jerk."
"We're still working out the kinks," admitted Ahmed al-Ahmed. Security Debrief asked if he was concerned that ISIS leader Abu Bakr al-Baghdadi might kill him for having a business that seems to promote promiscuity.
"I spoke with him about it. At first, he said, 'you're perverting the Islamic State! I'm going to rip out your eyes and barbeque your children!' Classic Baghdadi. But then I told him it would attract new followers, with a message that says, 'hey, you want a girlfriend and you want to commit atrocities. We get it.' Today, Baghdadi is our biggest funder, and also a regular user."
U.S. intelligence officials said the website would be a goldmine of information about some of the world's most wanted. One senior level source (name withheld) told us, "Who could have guessed that Jihadi John loves autumn nights by the fire, Ben and Jerry's Cherry Garcia and his favorite song is Lionel Richie's 'Say You, Say Me.' That's valuable intel. Emwazi is going down!"
Back to the top
———————————————————————————————————————–

DHS S&T "National Conversation" to be Closely Monitored
In an effort to broaden the understanding of his agency, earlier this year DHS Under Secretary for Science and Technology Dr. Reginald Brothers launched a National Conversation on Homeland Security Technology and Innovation. Using both in-person and online meetings, the goal is to create a dialogue with business, academia, government, first responders and the general public. Upon learning that S&T would encourage electronic communications about technology, Admiral Mike Rogers, Commander of U.S. Cyber Command and Director of the National Security Agency, authorized his agency to closely monitor all such conversations.
"The NSA must ensure that no terrorist organizations are able to glean information about technology that could be used against U.S. interests," said Rogers. Told that the S&T National Conversation was open to the public and there is no way of knowing whether U.S. citizens or foreign nationals were participating, Rogers responded, "Doesn't Brothers know that no one in this government has a conversation that we don't listen to? Didn't he read those fictional reports that we got Edward Snowden to leak? What's his problem?"
Calls to White House National Security Advisor Susan Rice were not returned. Aides said she was busy reviewing the files on former Secretary of State Hillary Clinton's personal e-mail server to determine what could be released to the public without embarrassing the Administration, if that is possible.
Back to the top
———————————————————————————————————————–

Rep. King Partners with First Lady, Richard Simmons for "Let's Move!" Campaign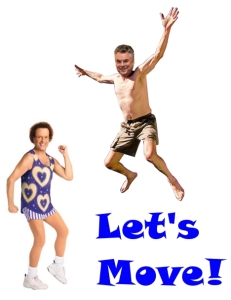 Enraptured and feverish groups of full-throated roaring Long Island supporters were left catatonically stunned yesterday at the Nassau County Coliseum when Congressman Peter "Show Me the Money – We Are The NUMBER ONE Target" King abandoned his long-rumored 2016 Presidential Campaign in favor of a new partnership with First Lady Michelle Obama's "Let's Move!" campaign.
"Iowa and New Hampshire are fine places to visit, but I'm not going to spend the next 10 months of my life shilling for ethanol, flipping pancakes or judging maple syrup batches. I want to do something bigger with my life."
King then proceeded to announce his newfound passion for exercise, calisthenics in particular.
"Oh how I love to jump! It's so liberating. You go up and down and up and down. It's sort of like CNN's ratings in between aircraft disasters and government shutdowns."
First Lady Michelle Obama applauded the longtime New York Congressman for his exercise zeal.
"What my 'Let's Move!' campaign has been missing was someone who could be the poster child for jumping," she said. "When Rep. King said he was willing to jump off a bridge if Senator Ted Cruz became the GOP 2016 nominee, I knew I found my guy! I hope Senator Cruz keeps climbing in the polls because for every uptick he gets, Pete King has promised me he will jump up and down on cable TV for months on end!"
To further her health kick and exercise cause, the First Lady announced she was establishing the "Dynamic Duo of Jumping" and brought with her the exuberant, red-shorts wearing, "Sweatin' to the Oldies" fitness guru Richard Simmons to lead the Nassau Coliseum crowd in jumping jacks and other up and down motions. With Van Halen's 1984 classic rock hit "Jump!" blaring in the background, the gathered crowd watched in awe as Rep. King channeled his inner David Lee Roth and scissor kicked into the air.
When pressed by reporters how a man of his elder stature could safely teach others to jump, King explained he had been watching old videos of Tom Cruise jumping up and down Oprah's couch, as well as outtakes from the Jerry Springer and Maury Povich shows with jumping angry guests, to perfect the safest way to jump up and down.
"I can do this and help millions of Americans get the exercise they need," said King. "I want to help people realize that Ted Cruz should inspire all of us to jump up in down in hysterics because in the end it will be good for all of us to get up off our butts and stop him before it's too late."
Back to the top
———————————————————————————————————————–

Rep. Gohmert Asks FBI to Investigate Washington Capitals Commie Connections
Known for his loud, rude and irritating methods, especially during an interrogation of Obama Administration officials, House Judiciary Committee member Texas First District Congressman Louie Gohmert today called on FBI Director James Comey to initiate an investigation into several Washington Capitals hockey players, including Evgeny Kuznetsov, Alex Ovechkin and Andre Burakavosky, whom he called "a bunch of Russian Commies."
"I don't know who in this idiotic administration let these Commie spies into this country," he said, "but I have it on good authority that they regularly communicate with their agents in Russia about sensitive matters concerning defense matters."
When told that Burakovsky was not from Russia but rather was an Austrian citizen, Gohmert bellowed, "Are you THAT naïve? The man is a well-known Left Winger, and his name certainly sounds Russian to me."
Gohmert also claimed that Ovechkin, as a member of the Russian Olympic Hockey Team, had frequently associated with Russian President Vladimir Putin, a ruthless dictator and enemy of democracy. Gohmert has previously called dictators like Putin as dangerous to America as the current President because "neither have any respect for the American Constitution."
"Congress has forced the Administration to impose sanctions against Russia for Putin's aggression in the Ukraine and Crimea , and yet the President and the Attorney General will not enforce travel sanctions against these overtly aggressive anti-Americans," said Gohmert. "These vermin are threats to national security. They are predators known to carry around blades more than 10 inches long."
FBI Director James Comey promised that he would conduct a thorough investigation and promptly invited DHS Secretary Jeh Johnson and White House Homeland Security Advisor Lisa Monaco to join him in the owner's suite at the Verizon Center for a Capitals game against the Nashville Predators.
Back to the top
———————————————————————————————————————–

Big Sis to White House: "Take Me Back!"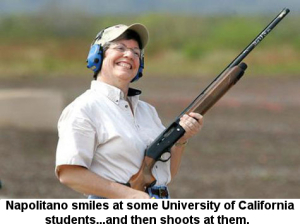 White House insiders have revealed a slew of recent late night phone calls from former Homeland Security Secretary Janet Napolitano, begging to come back to Washington. Describing the normally reticent and unemotional former Arizona Governor as fatigued and remorseful at having left the Department up Sheets Creek without a paddle and no leadership to paddle it for at least a little while, the calls caught even the most seasoned Washington hands by surprise.
"I thought we changed that phone number when she left," said an unidentified White House official who begged us not to reveal their identity for fear of outgoing Attorney General Eric Holder launching a criminal investigation into anyone who takes a leak in Washington. The source continued:
"All she does is whine and complain about all the crap she has to put up with out there in California. She complains about the prima donna faculty members who want raises and for more people to buy their self-written textbooks on existential surfing experiences and bong hits. Then she starts bitching about the whiny college students who have no sense of wardrobe and want their grades inflated so they can skip classes and work on their base tans. I mean, what did she think was going to happen when she left DC? That they were actually going to go to class and things would work? It's California!"
Sources on Capitol Hill explained that Napolitano has also been making late night calls to congressional members, reminiscing about the "good ole' days" of having people call her bad names, force her to attend countless congressional hearings, and answer loaded, obtuse questions that only made more people mad at her.
"When I first picked up the phone, I thought it was a joke, but when she started to sing 'The Thrill is Gone,' I knew it was her," remarked Rep. Bennie Thompson, Ranking Member of the House Homeland Security Committee. "I know the Blues. Hell, it's my District – home of the Blues. Janet has the Blues. She misses us big time."
Calls to Napolitano's California office were not immediately returned. When asked when Governor Napolitano might have a response for Security Debrief, the spokesperson said she would respond after she gets back from shovel shopping.
Back to the top
———————————————————————————————————————–

Congress Downsizes DHS Funding Vehicle from BUS to CAR
Recognizing that there were significant problems in getting DHS funding bills approved in previous years, Congress has decided to find another funding vehicle. House Appropriations Committee Chairman Hal Rogers (R-KY) announced the move before a packed hearing today.
"It seems that we've tried everything in the past to get DHS spending in line, but our colleagues on the other side of the Hill balked at everything the House proposed," said Rogers. "That forced us into using funding vehicles such as an 'Omni-BUS,' a 'Mini-BUS' and last year a weird contraption called a 'Cromni-BUS' to get the appropriations bills approved. Ever since the time I was in high school in rural Kentucky, I've been opposed to bussing of any kind. And I particularly hated it when I had to ride the short ones."
The House Appropriations Committee is leaving the "bus" approach once and for all in lieu of a smaller, faster, cheaper, more maneuverable vehicle. The new "Congressional Acquisition Regulations" (CAR) will make DHS funding easier in the future. CAR will be a precondition for funding DHS programs going forward, and all DHS funding requests will now follow a process similar to the one DHS requires of private sector companies seeking to do business with DHS. Some of the elements of this process include:
DHS shall first submit a White Paper/Quad Chart to the Appropriations Committee, which will be lost and a second White Paper shall be submitted for review.
The Committee staff will issue a Request for Information (which will be published in the Congressional Record no sooner than one week after it is issued) seeking proprietary and cost information. Extensive test data to support the claimed technology readiness level must be submitted along with an Analysis of Alternatives at the time the RFI response is due.
The DHS proposal must include GAO-auditable proof that DHS has eliminated all risk of failure and that the project can be implemented at less cost than estimated. The Committee will occasionally ponder the RFI responses for a period of not less than two years.
The Committee will likely send out a Request for Proposed Funding, which if sent out shall only be released on a Friday evening before a federal holiday. The RFPF will not contain any definitive requirements but will require DHS to submit a response within 30 days.
The Committee will, on the 29th day, extend the time for filing a response by 60 days. On the 58th day thereafter, the Committee will cancel the RFP without giving a reason.
No sooner than 6 months later, the Committee will hold an oversight hearing and advise DHS that a new RFP will be released "soon." Nothing will happen for another 90 days.
All telephone inquiries will be directed to a committee staff clerk whose phone number has been disconnected. E-mail messages will bounce back to the inquirer because the e-mail inbox is full and unable to accept new messages.
A new RFPF will be published in the Congressional Record at a time and date convenient to the Committee, with responses due within 10 calendar days.
In recognition of the success of the OMB Circular A-76 program that promotes competition, all federal agencies will be invited to bid, not just DHS. All bidders must allow the Small Business Administration to perform not less than 23% of the work, both by work share and by dollar volume.
Although not specified in the RFP, any award will be made solely upon a "Low Price, Technically Close Enough to Acceptable" (LP-TCEA) basis.
Rogers concluded the briefing, saying: "I believe the best way to make an Executive Branch agency to see the error of its ways is to force it to follow its own procedures. Our Congressional ActionTM agenda is premised upon DHS being required to do to itself what it does to others. If they want us to give them the gold, they need to practice the Golden Rule," he said.
Upon hearing of Rogers' proposal, the entire Office of Procurement Operations resigned.
Back to the top
———————————————————————————————————————–

Congress Strikes Back at Obama Executive Action on Immigration – DHS Flummoxed!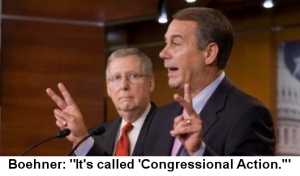 In the immediate aftermath of last year's election, then Senate Majority Leader-elect Mitch McConnell and House Speaker John Boehner wrote President Obama, cautioning him against any form of Executive Action on immigration. Obama ignored their warnings and last November issued a number of executive measures designed to change the way immigration laws were enforced and interpreted. Now hardline conservatives are seething that something needs to be done to stop the President and DHS Secretary Jeh Johnson from loosening the "deferred action" program. That "something" has now been revealed exclusively to Security Debrief.
A draft memorandum is being circulated among Republican members of the House and Senate. In it, McConnell and Boehner outline a series of steps to fight back against Obama's Executive Action. Republicans will initiate a program called "Congressional Action," a term so unique the GOP has trademarked it. McConnell and Boehner wrote:
"It is sad that it has come to this, but the only way to fight fire is with fire. If the President can push forward illegal Executive Action directives, then we will engage in something that rarely, if ever, occurs on Capitol Hill. We recognize Congressional Action™ will be controversial and many of our Members will not understand it at first. But over the coming weeks, as we enact these sound, common-sense measures, the Republican caucus and the American people will see the wisdom in our approach. The President cannot mislead the people all by himself. He needs our help. That is why we will weigh in strongly with our views."
The draft memo lists some of the main principles of a forthcoming Congressional Action™ campaign:
DHS cannot be trusted to manage itself, much less prevent a cyber or physical attack. To ensure that all communications with Congress are secure and not subject to hackers, DHS shall submit all required reports, written testimony and responses to committee QFRs on 8 ½ by 11 Parchment Paper, using a minimum of 2 inch margins on each side, written in blue ink with a quill pen.
Until the President's Executive Action is permanently withdrawn, any DHS official appearing before any committee or subcommittee of Congress shall wear pink underwear covered by an orange and white horizontally striped jump suit while testifying. On other occasions when Senate-confirmed DHS officials are on Capitol Hill, such as for briefings of congressional members or staff, the official shall wear pink underwear covered by a black and white vertically striped jump suit. If not attired accordingly, the Capitol Police will not permit the DHS official(s) inside the U.S. Capitol or any of the Congressional office buildings. (Thanks to Arizona Sheriff Joe Arpaio for these suggestions.)
DHS program authorization and appropriations must follow new CAR procedures (see related story.)
On every April 1, the DHS Secretary shall submit to a televised interview by David Gardner, founder of The Motley Fool. Each shall wear a jester's hat during the interview, which will be broadcast on C-SPAN. Also on every April 1, all DHS Public Affairs personnel will stand down from their regular activities so they can attend a day-long training session on truthful reporting, to be led by NBC's Brian Williams or, in his absence, Bill O'Reilly.
The main gate at the St. Elizabeth's campus location of DHS shall be renamed the "Sheila Jackson Lee Portal." No further explanation is necessary.
For the safety of the American public, U.S. Secret Service agents assigned to the Presidential Protection detail shall be prohibited from becoming drivers for Uber or Lyft.
Members of Congress and members of the National Rifle Association who possess "concealed carry" permits shall be exempt from security screening of any type at commercial airports within the United States.
To save money on printing, the Republican leadership noted that the details on the new Congressional Action™ program would be distributed to every Member of Congress, DHS employee and contractor by way of 1 Gb thumb drives donated by Huawei Technology of America. Huawei CEO Wii Spi Anh Yu told Security Debrief that his company was happy to participate with congressional leadership on this project.
"For a long time, we've been monitoring congressional activity looking for an opportunity to get to know America's legislative and security community," said Yu. "We are happy to provide tools for Congress to control the excesses of the Department of Homeland Security…tools that are in no way crammed full of state-sponsored Chinese malware."
When asked about the new program, DHS Secretary Jeh Johnson said, "We are flummoxed by it." Reporters rushed to search Wikipedia to learn the meaning of the word "flummoxed."
Back to the top