FOREIGN FIGHTERS
Countering Violent Extremism Programs in Minneapolis
In the Twin Cities, growing in tandem with the threat from ISIL recruitment are multiple programs that seek to dispel terrorist narratives, engage young people, and improve community engagement and quality of life. As a part of its August 2011 Countering Violent Extremism (CVE) strategy, the Obama Administration's "Strategic Implementation Plan (SIP) for Empowering Local Partners to Prevent Violent Extremism in the United States" focuses on three primary objectives: enhancing federal CVE community engagement; cultivating public sector expertise in CVE; and countering extremist messaging.
This initiative resulted in the development of a CVE pilot program in Minneapolis, led by U.S. Attorney Andrew Luger. The pilot focuses on stemming recruitment efforts by cultivating and funding youth programs, job training, and expanded after-school programs intended to facilitate mentorship. Working with community representatives, the pilot takes a holistic approach to improving the welfare and support for Somali-American young people in Minnesota. The pilot is also the basis for community-led intervention programs, making it easier for families to request help from mental health professionals, religious leaders, teachers, and others if their children are suspected of associating with, or being recruited by, terrorist organizations. This creates a safe way for the community to address threats and concerns without drawing undue attention from law enforcement, which is a pervasive fear throughout the community.
This government-supported, community-based strategy exists alongside independent, grassroots CVE efforts in Minneapolis-St. Paul. There are currently two types of programs that may have an impact on the thinking and actions of young people in Minneapolis: CVE-focused organizations; and community-improvement-focused organizations. Efforts in each area are yielding important advances in how the Minneapolis-St. Paul Somali community nurtures its younger populations and guards against extremist recruitment.
CVE Organizations in Minneapolis-St. Paul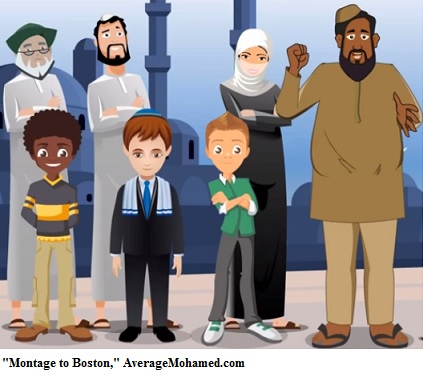 Mohamed Ahmed is a husband and father, a manager at a convenience store, and the creator of Average Mohamed, a website presenting counter-radicalization messaging geared towards young people (ages 8 to 16). The project uses cartoons to present Islamic messages that counter the radical ideology preached by ISIL, al Shabaab, and other terror groups, approaching youth in a media format with which they are familiar and interested. Ahmed collaborates with local religious leaders to craft the messages in a way that relays Islamic ideas while dispelling ISIL's ideology. Ongoing for nearly a decade, the project has been entirely conceived, funded and managed by Ahmed. He said of his project:
"It takes an idea to defeat an idea. Extremist ideology must be competed against. It only takes an average man to radicalize and recruit vulnerable young people, and it only takes an average man to offer a different, peaceful narrative. Average Mohamed is the answer to the ongoing efforts to mislead our children."
While Ahmed's efforts clearly align with the administration's SIP objectives, Ahmed and his project have no affiliation with government efforts, his work and successes existing outside the realm of government-driven initiatives. It is perhaps for this reason that Ahmed has been able to spread his message to the Minneapolis-St. Paul Somali youth without much community suspicion with regard to his motives, unlike other Minneapolis programs that the community widely believes to be pawns of Federal counterterrorism efforts. Indeed, other studies have discovered that government sponsorship inevitably undermines the legitimacy of any program that counters extremist messaging from a theological perspective.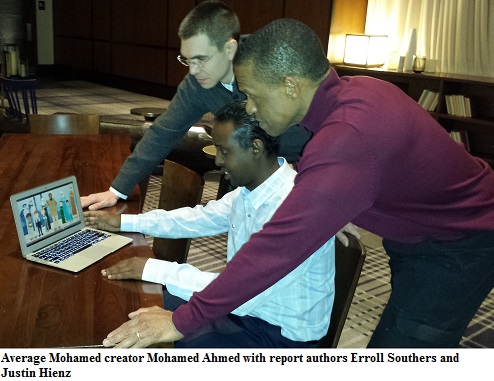 The cost of developing and operating Average Mohamed is significant for Ahmed, and while he says funding would be welcome, the report authors found opportunities to advance his effort without direct monetary support. For example, Dr. Erroll Southers was asked to speak to CNN's New Day in January about U.S. CVE efforts. By sharing a University of Southern California article (also written by the report authors) with CNN, we were able to secure a joint interview on New Day with Southers and Ahmed. We also worked with Ahmed in his media relations with other news outlets. Finally, as global public awareness of Ahmed's project grew, we worked with him to plan a growth strategy, discussing a project transition into a non-profit and connecting Ahmed with experts in that field to advise him. Ahmed founded a non-profit in April 2015, asking Southers and Hienz to serve on the board of directors.
There are other community-driven programs in Minneapolis that seek to prevent young people from embracing the extremist narrative. Examples include:
The Islamic Civic Society of America (ICSA): Based in Minneapolis, the ICSA strives to relay a view that Islamic tenets and civic principles in a democratic society are compatible. Importantly, given research findings on recruitment in Minneapolis, ICSA is focused on helping Muslims develop a personal identity that can safely accommodate both Islamic and secular principles. ICSA is affiliated with the Minneapolis Dar Al-Hijrah Mosque.
Somali Citizens League: A grassroots organization, the Somali Citizens League works with the Minneapolis community and law enforcement to advance the welfare of the local population through education, services and funding.
Ka Joog – A non-profit founded in 2007, the purpose of the organization is to provide "positive elements of education, mentorship, employment and the arts" to Somali youth in Minneapolis. While the group is not only focused on preventing radicalization and recruitment, the genesis of Ka Joog can be traced to al Shabaab's earlier success recruiting in the Twin Cities. The organization tracks academic grades, school attendance and "behavior changes," while also working with parents. Data is collected every 90 days throughout a young person's time in high school, and according to Executive Director Mohamed Farah, since 2007, no Ka Joog participants have been involved in recruitment or gangs. This is not proof of success, but it is "evidence of absence."
Minneapolis Law Enforcement and Community Engagement
Multiple sources reported that the community relationship with local law enforcement has improved dramatically in recent years. One reason for this is a focused effort to hire Somali-Americans as sworn law enforcement officers and community liaisons. Somali-American police officers enforce the notion of community participation in public safety, and their work and insights profit local law enforcement a deeper cultural understanding of the communities they serve. This aligns with findings in previous research, indicating that when authorities are seen as legitimate, "their rules and decisions are more likely to be accepted. Community engagement is—in part—an effort to make law enforcement authority more accepted within localities."
In St. Paul, the city has created a council of Somali elders that advise the police department. The city's Police Athletic League attracts hundreds of Somali young people, and the St. Paul Police Department has also hosted halal cookouts. Meanwhile, the Minneapolis Police Department (MPD) conducts ongoing programs to engage the community. The Somali Women and Women in Law Enforcement gatherings provide MPD an opportunity to interact directly with the mothers and other relatives of young people, building relationships that could lead to closer collaboration between law enforcement and the community when it comes to preventing radicalization and recruitment. An existing relationship increases the likelihood that a parent or other community member will report troubling changes in behavior and belief, or worse, a departure to join a foreign terrorist group. Al Shabaab has intimidated members of the community into silence, warning that if family members speak to authorities, they will never see their child again. For a parent, the smallest glimmer of hope that a child will come home is more palatable than any benefit that might be gained by working with authorities.
The MPD also operates a Youth Safety Camp where one primary goal is to engage Somali youth and create an environment where they can interact with the other community cultures in Minneapolis. This program is offered for middle school students so that when they reach high school, they have formed cross-cultural friendships, thus reducing the risk of culture-based conflict. The MPD is also planning to launch a new program, Conversations with Cops in Coffee Shops. With this program, police officers will frequent cafes where Somali-Americans congregate, particularly the Starbucks on Nicollet Ave. and Franklin St. in Minneapolis, where the clientele is largely Somali men from the community. The goal is to increase communication with the Somali community and offer regular opportunities for citizens to have positive interactions with MPD.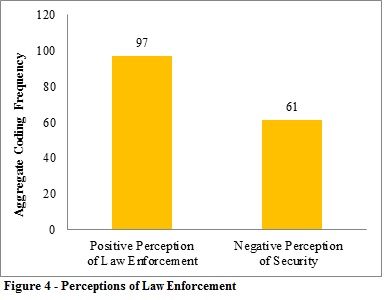 These efforts by local police to engage the community are having an important, positive effect on perceptions of local law enforcement. In interviews, there were 97 instances of a positive perception of law enforcement, and of these, 66% were specifically in reference to MPD, the department's value, and how their presence in the community is yielding positive outcomes. This positive view leads to greater trust between the community and law enforcement, which can yield more effective collaboration in addressing community concerns and identifying bad actors in Minneapolis-St. Paul. Even as the community-police relationship is improving, there remains a reticence to proactively inform police about a case of radicalization and recruitment. During the first meeting with a community engagement officer in Minneapolis, the report authors were told, "You found out more in two days than I've found out in two years."
While local police efforts have improved relationships, the community's positive sentiment towards law enforcement does not extend to the federal level. There were 61 instances of a negative perception of law enforcement, and 65.5% were specifically in reference to the FBI. The Bureau has been working with local law enforcement to engage the community; for example, attending community meetings and participating in Somali Independence Day celebrations. Yet, the FBI remains in a perceived adversarial role vis-à-vis the Somali-American community in the Twin Cities.
Community Organizations and CVE
There are 35 nonprofit organizations in Minnesota that serve the Somali-American community, and 23 of these are in Minneapolis-St. Paul, according to ChairtyNavigator.org. In addition, there are organizations and programs that exist outside the nonprofit arena. One of the most widely known and respected of these is the West Bank Athletic Club (WBAC), run by a man known throughout the community simply as "Coach."
Coach Ahmed is the founder and leader of the WBAC soccer teams. Founded in 2012, WBAC works with Minneapolis young people year-round. Interest and participation has steadily grown over the last three years. There are currently 45 young people (14-19 years old) playing for WBAC, split into three teams of 15 players. However, there are 150 young people on a waiting list, indicating the massive interest in the club, as well as the consequences of severely limited funding. WBAC is working to secure funds for practice space and equipment and aspires to have 10 to 12 teams catering to players 5 to 18 years old.
As a part of our fieldwork, the report authors attended soccer practices and team gatherings. One of the club's 19-year-old members spoke about how Coach Ahmed plays an active role in young Somali-Americans' lives that stretches beyond the soccer field. He said:
"My coach is really good. He takes me home most of the time. He gives us rides when I don't have one because my mom doesn't drive…he waits for me until I get in the house. Then he'll call, 'Are you safe?' I'm like, 'Yes, Coach.'
"Coach always tells us, 'Stay away from bad things and bring in grade reports. Stay good in the school. I'm not coaching you guys because you are the best players. I'm coaching you guys so you can be something later on. I want you guys to play for colleges. I want to see you getting good grades.' He's getting us a tutor so he can help us with math, so our GPA can go up and our soccer will be good and then we'll be good enough."
This focus on personal and academic development is similar to other organizations in Minneapolis-St. Paul, but critically, Coach Ahmed is not paid for his work, the costs of practice areas and equipment funded by family and community donations. Far from the million-dollar-grant aspirations of other organizations, Coach Ahmed is focused entirely on the wellbeing of his soccer players. In structured interviews, there were 135 statements championing Coach Ahmed and his program, and multiple sources reported, "Coach is doing the real work."
This common refrain was not simply an acknowledgement of Coach Ahmed's impressive work but also an implicit criticism of other individuals and organizations that claim to help Somali-American youth in Minnesota but ultimately are motivated to increase personal wealth and prestige through grant money intended for the community's young people. The community calls these people and organizations "The Pretenders."
The Pretenders
There are competing interests among the community-based organizations in the Twin Cities. There is some rivalry between organizations vying for grant money, and there are enduring clan allegiances that have carried over from Somalia. Thus, a criticism of a specific group must be assessed not just for its validity but also for whether it is a self-serving criticism intended to tilt perception in favor of the criticizer. That said, there is a persistent view throughout the community that there are individuals and organizations that have become adept at securing government funding, though that funding is not directed to the intended recipients of the aid (i.e., Somali-American young people). This sentiment, mentioned 72 times during interviews, is pervasive in Minneapolis-St. Paul. Anecdotally:
A Somali Law Enforcement Officer said:
"There are a lot of community organizations who get money in the name of the community and never come back…So-called Somali community leaders have been receiving money from the city or the state or local but the community never benefit. They benefit only that little group. And the community is pissed off."
One of Coach Ahmed's soccer players said:
"Most of the leaders in the community, most of them tell us, 'We'll do something for you guys,' but they never have done anything. The coach is like, 'We'll help you guys. We'll come everywhere. I'll call the kids.' But [the Pretenders] make a promise and then they never make it up."
Another source was even blunter:
"[The Pretenders] are bloodsuckers. All they need is the paycheck. They don't care about the ills and the problems."
And during a protest in the Cedar-Riverside neighborhood, Mubashir Jeilani, co-founder of Cedar Riverside Youth Council, told the Twin Cities Daily Planet:
"Our real problems are community development. We have so many different organizations claiming that they help our youth, but…they don't help us."
How are leaders able to secure funding when they are not effecting change in the community? In the words of another source, "The community leader programs always pass. I'm sure they've been vetted. They just pass. They know the loopholes and what they need to do."
Sources recounted a troubling anecdote that evidences this ability to pass official assessments. During DHS Secretary Jeh Johnson's 2014 visit to Minneapolis to meet with community leaders, he sat with individuals who claimed to be CVE advocates but, according to sources, were previously proponents of al Shabaab and its extremist message.
The Pretenders are skilled at manipulating information and imagery to secure funding. Coach Ahmed recounted instances where organizations asked him to bring some of his soccer players to an event or meeting, so the organization could claim they help a given number of young people. Yet, time and again, Coach Ahmed said, these organizations do not use their funding to help the young people as they claimed they would.
It is this phenomenon of a Pretender that makes program validation difficult, inconsistent and potentially misleading. A rigorous vetting process does not necessarily reveal a Pretender, as sources reported they are good at being vetted.
CVE Program Recommendations
It is not possible to prove a negative. No organization can claim with certainty that their work directly prevented or reduced the risk of radicalization and recruitment because it is impossible to identify who would have become an extremist without the organization. Perhaps the most that can be hoped for is "evidence of absence:" a lack of recruitment for a given group suggests that the group is successful in preventing recruitment. Yet, even this is a challenge for many Minnesota organizations, as metrics tracking appears to be a secondary priority to the work of the program. This is somewhat understandable, particularly for the community organizations that are run with virtually no budget and limited staff.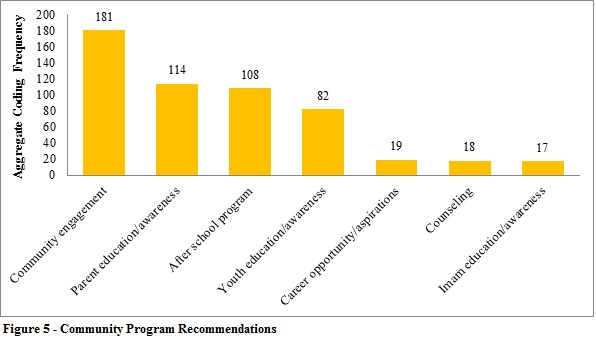 There are numerous Minneapolis-St. Paul organizations focused on helping young people resist recruitment, but Somali-American youths continue to depart to join foreign terrorist groups. On each visit to Minneapolis, the report authors were informed that more young people had left, and on each occasion, at least one of these missing young people was not reported to police. Clearly, current programs are insufficient to stem the flow of fighters to ISIL. More needs to be done. This does not necessarily mean increased funding, but instead, a smarter, more strategic application of funds to programs that reflect the stated needs of the community and are continually delivering evidence that funds are spent on real, immediate efforts and not used as a way to increase personal income and prestige.
Sources were asked to recommend important elements in a CVE program. The community's recommendations focused on a holistic, integrated approach to supporting young people and their families. "Community engagement" was by far the most commonly mentioned element. The community wants to be a part of the effort to stem violent extremism, and the efforts by local law enforcement to work with the community are having an important effect.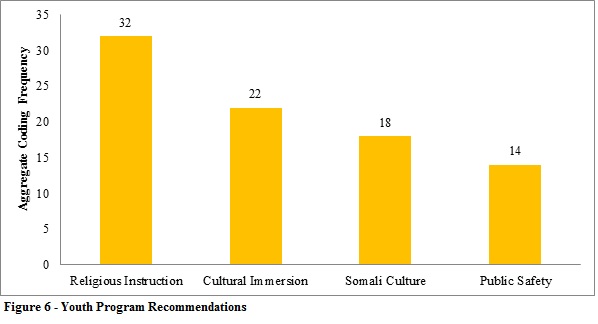 The involvement of schools and teachers in parental and youth education and after-school programs was also widely cited. For youth programs, religious instruction was identified as the most important element. A clearer understanding of religious texts and beliefs can undercut the violent theological message of terrorist recruiters, and it can also support healthy identity formation, as young people understand, via legitimate community-led education, that Islamic beliefs and a secular society can safely exist simultaneously in one's view of themselves. Likewise, the importance of cultural instruction was emphasized with regard to Somali tradition, history and language, as well as U.S. culture, civic principles, and pluralism.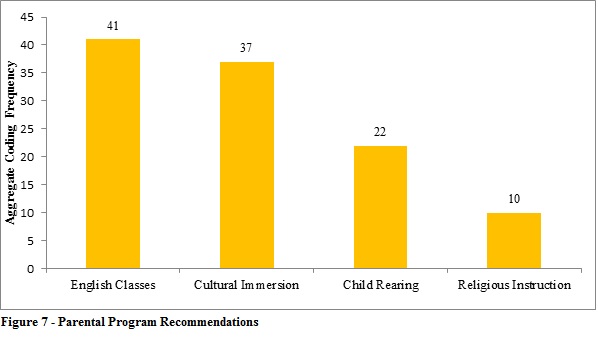 For both parental and youth programs, guidance on cultural immersion was cited as an important element, indicating a community-wide recognition that after immigration, new residents require further support to fully embrace their new home. For parental education programs, sources more commonly noted practical topics: learning to speak and read English; and advice for child rearing. The latter is particularly important because 34.6% of Minnesota Somali households are single parent, a challenge for any family that is exacerbated in Minneapolis-St. Paul by the challenge of assimilating to a new country.
There are cascading benefits that can be realized by engaging parents in the Minneapolis-St. Paul school systems, including the Somali charter schools. The director of a Minneapolis dugsi said that his school serves as a hub for the community, helping parents navigate a new culture and country while also supporting their children's education. The director said that the three primary challenges for families are "translation, transportation and connectivity."
Language barriers can preclude parents from fully engaging a new society. At the same time, parents might have limited mobility. Particularly in the sub-zero temperatures of a Minnesota winter, the inability to drive and navigate the city isolates parents and challenges assimilation. With language and transportation barriers, parents can find it difficult to access the social, medical and legal services available in the United States.
The dugsi director explained how his organization is working to engage parents more fully in the education of their children, using it as an opportunity to address the core community challenges. Read the next section.
Report Sections